Sale!
You save 41%
You save £17.26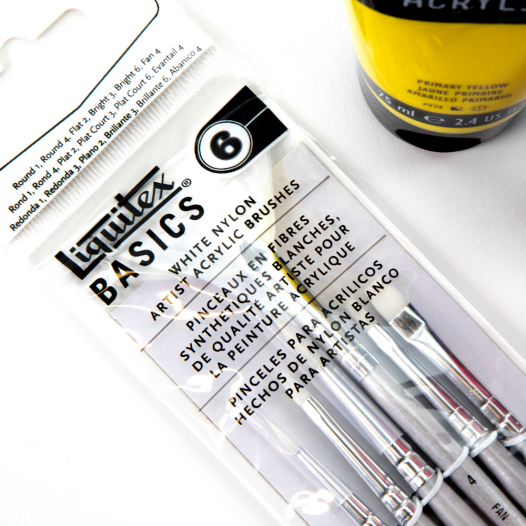 Contents*
9 x BASICS Acrylic Colour (75ml)
6 x BASICS Assorted Brushes
1 x BASICS Colour Guide
Student-Quality acrylic paint
Set of 6 primary colours
Lightfast, blendable
Made using artist-quality pigments
Dries to a satin finish
*please refer to "Contents" tab below
Designed as the perfect starter set for any newcomer or as a thoughtful gift for the artist in your life, this set from Liquitex, is the perfect introduction to their BASICS range, along with acrylic painting as a whole.
Compact, transparent & portable (with fold-out handles), the plastic case included is perfect for keeping your paints & materials safe and stored away, whether at home or on the move! 
The 9 included colours are vibrant & intermixable, providing a starter palette with an almost limitless potential for mixing & blending.
Also included are 6 x short-handled, multi-purpose BASICS brushes from Liquitex.
The strong synthetic bristles feature enough spring to comfortably work with acrylic whilst maintaining their shape & point. 
For all creatives & budgets, the BASICS range is perfect for a myriad of painting techniques including underpainting & sketching.
With a medium viscosity, each of the full 72 colour range is made using a smaller amount of the same lightfast, artist-quality pigments found throughout their professional heavy body paints for a perfect balance of quality & economy.
Anonymous A.
23/11/2018

5
/5
Everything in box excellent and neatly arranged, contains colour chart. Makes a lovely present. Lid is easy to take on and off and also has a handle. This handle is a little tight to put your fingers through but not a big problem. Nylon brushes included.
Anonymous A.
12/03/2018

5
/5
very good for price paid
Anonymous A.
19/01/2018

5
/5
Great value for money !
Anonymous A.
12/01/2018

5
/5
Love the variety of colours and brushes.
Anonymous A.
12/01/2018

5
/5
As it says, it is basic, but good value for money