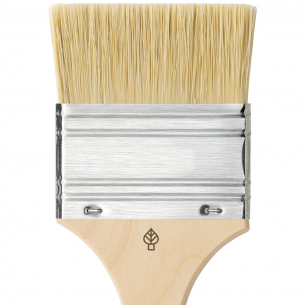 Range of sizes available
Sold individually
Media:  Oil / Acrylic
Fibre:  Synthetic Hog Hair
Head:  Flat / Mottler
Ferrule:  Rust-Proof Steel
Handle:  Short, natural with black ends & polished finish
Chuneo
 from 
Da Vinci
is a revolutionary range of brushes designed to emulate "Hog Hair" bristles using 100% synthetic fibres.
Vegan, cost-effective, durable, easy to clean & available in several sizes and styles, these are a truly environmentally conscious alternative without sacrificing quality.
The 2429 Mottler brush head features a wide, straight, flat edge.
Thanks to the stability & control this affords (especially over larger areas), they're ideal for larger work including, varnishing, glazing & priming.
The fibres are mounted in a rust-proof ferrule, using the patented Duroplus method.


Duroplus
As larger brushes tend to be subject to heavier use, Da Vinci developed this method of mounting hairs & fibres much more securely.
This involves additional rivets, specially designed handles & adhesives added deeper into both the hairs and handle.
All of this creates hard-wearing, reliable brushes every time.