Sale!
You save 58%
You save £41.96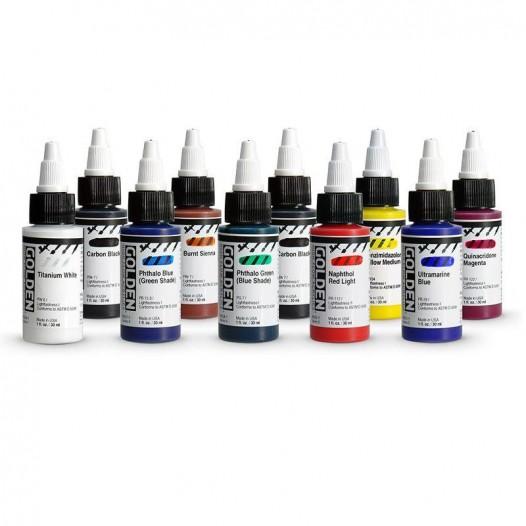 Great for all manner of techniques
Create fine lines and broad strokes
Use with an airbrush, pen or paint brush
Can also be used to pour, glaze or stain
Ten high intensity colours
Video: Golden High Flow Acrylic Inks
Go from brush to marker, dip pen or airbrush with Golden High Flow acrylics. High Flow Acrylic has an ink-like consistency that lends itself to a wide range of techniques, including staining, levelling, calligraphy and mixed media, and can be used to create fine lines and broad strokes, and colour washes.
Use with an airbrush, pen & ink, traditional paint brush, poured, as a glaze or stain. Made with lightfast artist-quality pigment, these are high-intensity, flowing colours. The set contains ten opaque colours in 30ml bottles. Fantastic value. 
Colours included in this set: Burnt Sienna, Carbon Black, Quinacridone Magenta, Hansa Yellow Medium, Quinacridone/Nickel Azo Gold, Naphthol Red Light, Phthalo Blue (Green Shade), Phthalo Green (Blue Shade), Ultramarine Blue and Titanium White.
Ruby O.
24/01/2023

5
/5
Fabulous quality
Yummie L.
09/07/2022

4
/5
Good quality for reduced price.
Julie W.
12/05/2022

5
/5
excellent inks great colours
SUZIE L.
02/05/2022

5
/5
Unctuous!
Anonymous A.
03/08/2021

5
/5
These acrylic inks are full o colour and produce good vibe everytime I uaed them! Good stuff! Thanks very much
Anonymous A.
29/01/2021

5
/5
Excellent product
Anonymous A.
28/01/2021

5
/5
Great price
Anonymous A.
28/01/2021

5
/5
The pigments are of high intensity, they make a vibrant glaze over texture and acrylic paints. They mix well and they were good value as I got the ten pack half price.
Anonymous A.
26/01/2021

5
/5
Loving the quality of these inks they work straight from the bottle with no mess in all my airbrushes.