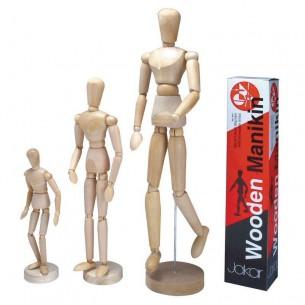 A useful tool for drawing the human form
Available in three sizes - 8", 12" & 16"
Movable and rotatable limbs
Made from strong and sturdy wood
Ideal for portrait artists
Jakar Wooden Manikins are a useful tool for anyone drawing or painting the human form. Each Manikin has moveable, rotatable and adjustable limbs that can be articulated around the joints, i.e. neck, elbow, ankle etc. They are made from strong and sturdy finished wood and are ideal for all types of artists who want to master poses, lighting effects and learn body proportions.

These Wooden Manikins are available in 8", 12" and 16" sizes. Jakar are one of the UK's leading brands in Arts and Crafts tools and materials. When you buy a Jakar product, you should expect a quality product at a reasonable price.
Robert C.
07/02/2022

5
/5
will make a nice suprise for my grand daughter
Charles B.
29/11/2021

5
/5
Very fun, great present.
Irene S.
11/12/2019

5
/5
Well made and very good value.
Anonymous A.
21/01/2019

5
/5
the product is very good, but the box it came in was torn
Anonymous A.
10/12/2018

5
/5
Well pleased because 16" mannequins hard to come by...
Anonymous A.
29/10/2018

5
/5
very good.
Anonymous A.
25/04/2018

5
/5
very useful for art lessons
Anonymous A.
10/02/2018

5
/5
well made and as good as i expected
Anonymous A.
23/05/2017

4
/5
The manikin I found easier to use that the hand.But I have sorted all the hic -ups.So as ever I am very satisfied
Anonymous A.
28/01/2017

5
/5
Exactly as described
Anonymous A.
29/12/2016

5
/5
Excellent value for money.