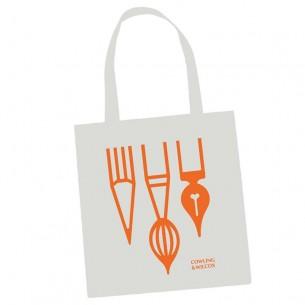 Available in orange or green
An eco-friendly alternative to plastic
Bold monotone design featuring our classic logo
Great for taking your art supplies on the go
Measures 39 x 39cm (excluding handles
Our limited edition cotton canvas bags are an eco-friendly alternative to plastic bags that can be used again and again. Each bag features our iconic logo, which is comprised of three artistic emblems - a pencil, a painbrush and a fountain pen. These are a lightweight and economical solution for taking your art materials on the go.
Our cotton canvas bags are stitched at the sides as opposed to the bottom, so your materials are safe from splitting the seam, which is often the case with other types of canvas bag. They are square in shape and measure approx. 39 x 39 cm (excluding the handles), giving you plenty of room to carry your belongings.
If you're jetting off on on holiday this summer, take one of our canvas bags with you and snap a photo. Upload your photo on social media, tag us in and use the hashtag '#BagsOnTour' to receive a £2 credit off of your next purchase with us! 
Please note:
We currently have limited stock of both the orange and green varieties of our cotton bag available. Colours will be chosen at random depending on availability. If you have a colour preference, please
let us know
 and we'll do our best to send you your preferred colour.
Tracey W.
14/05/2023

5
/5
Great value
Anonymous A.
03/11/2020

5
/5
Lovely idea! Nice bag I hope you keep doing them! They're very useful.
Anonymous A.
01/03/2019

5
/5
Bought for my daughters birthday, so not used yet but I'm sure will be received well.
Anonymous A.
20/02/2019

4
/5
Lightweight bag.