Sale!
You save 20%
You save 20%
Out of Stock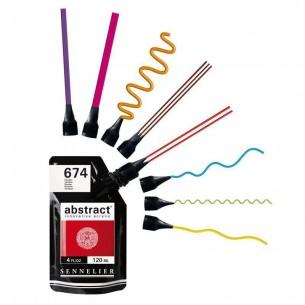 For use with Sennelier Abstract acrylics
Set of 8 tips of varying shapes and sizes
Adds different marks and textures to your work
Lay down lines of varying thickness
Endless creative possibilities
Video: Discover Sennelier Abstract Acrylic

Let your creativity run wild with this set of 8 tips, designed to fit on the nozzle of the Sennelier Abstract paint pouch. This selection of 8 tips gives you a great variety of shapes and sizes to add different marks and textures in your acrylic work. Lay down lines of varying thicknesses and even create up to three parallel lines at once! The creative possibilities are endless.
The Sennelier Abstract acrylic paint pouches are designed for busy artists with unstoppable ideas. Shaped to perfectly fit inside your hand, they are tough and air-tight, preventing air bubbles from drying your paint and come in a wide array of colours. With this set of eight new tips, nothing will be able to put a lid on your creativity!
Anonymous A.
26/05/2021

4
/5
Interesting results.
Anonymous A.
22/03/2021

4
/5
I have not used yet. Looks ok