Sale!
You save 43%
You save £8.96
Out of Stock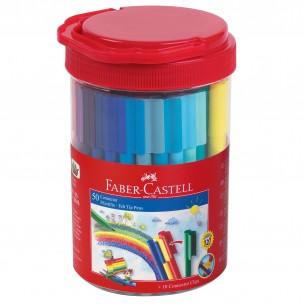 Strong tips with broad, easy to grip barrels
Water-based colours, washable from most fabrics
Unique child safe connector cap allows passage of air if accidently swallowed
Special 'click seal' helps prevent pens drying out
Video: Faber-Castell Connector Pens
Connector felt–tip marker pens from Faber-Castell paint bright and strong and even have an extra playful benefit: connecting the caps provides many possibilities for games, crafts, and cleanup. This bucket of 50 connector pens offers a huge spectrum of colours, each with turnable connecting pieces for imaginative crafting and playing.
The inks wash out from most textiles as they are water-based, and the unique child-safe connector cap allows passage of air if accidentally swallowed. The special 'click seal' helps prevent pens drying out.
Anonymous A.
21/12/2018

5
/5
Haven't tried any of them yet but the idea (connecting) and the presentation are fun-looking.
Anonymous A.
28/02/2018

5
/5
Lots of colours for not much money.
Anonymous A.
23/12/2017

5
/5
As described and expected