Sale!
You save 33%
You save £5.00
Out of Stock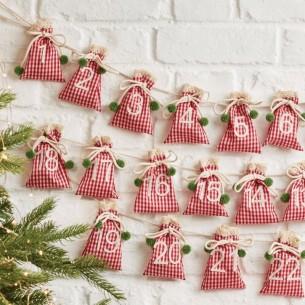 Get into the Christmas spirit and create your very own family garland advent calendar with this Simply Make kit from docrafts! You can reuse this fantastic festive calendar every year and fill it with all your family's favourite treats. Enjoy the countdown to Christmas together.
The advent calendar garland is fun for the whole family and is ideal for getting young imaginations running wild with creativity. You can make it a family heirloom too!

The kit contains everything you need to create your own advent garland including 24 x pre-cut fabric shapes, 24 x die-cut felt numbers, 48 x pom poms, 2 metres of braided rope, 24 x 40cm braided rope pieces, needle and thread and a cotton lace trim along with a useful set of instructions.

Simply Make Craft Kits cover all areas of craft in one simple collection. The craft kits on offer are revolutionary to gifting, with an array of everyday projects along with festive crafts where you will find something for everyone, whether someone wants to learn a different craft or has a little bit of knowledge about it. These kits come complete with instructions and all the tools you need to get started. Many of these kits open like a book with an acetate cover so shoppers can see inside them. Everything you need in a single box!