Sale!
You save 33%
You save £15.91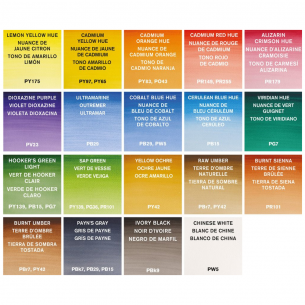 The perfect introduction to Cotman Watercolours
19 high quality colours in 2 forms
16 x Half Pans & 3 x 8ml Tubes
1 x Cotman Series 111 Brush
Ideal for outdoor use
Please Note: Outer packaging may differ
The Cotman Mixed Travel Set is stylish, comprehensive and practical in size, making it suitable for both studio or outdoor painting.
The ultimate in versatility, this set contains 16xHalf Pan colours and 3x8ml tubes, as well as a Cotman Brush Series 111 (no.3).
Each set features a removable clip-on palette which can be clipped on either side for extended mixing.
This additional palette can also be used detached, if provided a flat surface.
The interior of the lid can also be used for extra mixing when this palette is removed.
What is watercolour?
Watercolour is produced by the combination of a pigment with a binder, usually Gum Arabic. This is then applied, with water, to a support such as watercolour paper. The pigment fixes to the support upon evaporation of the water. Click here for further product information on Winsor & Newton's Water Colour range.
Watercolours are water-based, so brushes used to apply the watercolour paint need only mild soap and water to clean them after use. This video illustrates how simple it is to clean and care for watercolour brushes.

Which is better: tube watercolour or half pans?
There is no difference in quality between tube watercolour and half pans, the difference is in the application. Designed for ease of travel, half pan colours are perfect to use on the go. Half pans are popular with artists who paint infrequently, as the paints may be left for a long periods of time between uses, without affecting their quality.
One of the main features of the tubes is controlled measurement of use, applying as little or as much as required by the artist. Big spaces are more easily covered using tube water colour than when using a half pan.

Which surfaces best support Water Colour?
When choosing a watercolour surface, it is important to consider the absorbency, colour and stability of the paper. Our range of Watercolour Paper & Pads offers an extensive choice of size and style, to meet artists' every requirement.

Which brushes are best for watercolour painting?
Watercolour painting requires the brush to hold large amounts of water and paint. Natural hair brushes, particularly Red Sable brushes, tend to be favoured by artists working with watercolour. With a middle body able to hold a good reservoir of colour, Sable hair has excellent spring and resilience. The hairs are particularly strong at the brush's fine tip, allowing the brush to be used both delicately and aggressively. Advancements in the production of synthetic hair have resulted in a rise in popularity of Synthetic Watercolour Brushes, especially if price and durability are an issue.

Which techniques work best with watercolour?
The following links show some new techniques on how watercolours can be used:
Techniques For Contemporary Water Colour
Focus On Water Colour Illustration Techniques

Who are Winsor & Newton?
In 1832, William Winsor and Henry Newton introduced the first moist water colours to the world. Today, Winsor and Newton remain the premier choice for artists, offering a wide variety of fine art supplies including: oil, water colour, acrylic and alkyd paints, pastels, artists' brushes, canvases, papers and portfolios.
Anonymous A.
26/04/2021

5
/5
Excellent versatile and good for taking out with you too
Anonymous A.
10/04/2019

5
/5
Just what I wanted to update my watercolours
Anonymous A.
22/08/2018

5
/5
Lovely range of colours. Sturdy box. Very Pleased.