Sale!
You save 32%
You save £17.06
Out of Stock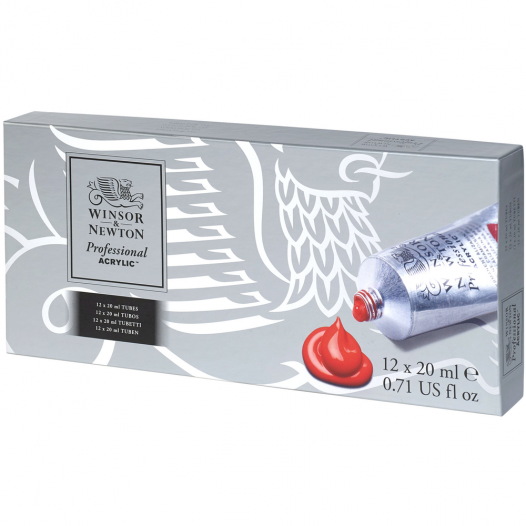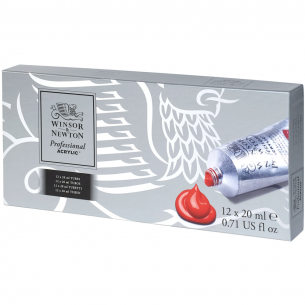 A great introduction to Artists' Acrylic
Broad palette of brilliant colours
Smooth, thick and buttery consistency
Dries with an even satin finish
Includes guidance leaflet
Offering a smooth, thick, buttery consistency with no stringiness, Winsor & Newton Professional Acrylic retains brushstrokes for excellent impasto effects, and dries to an even satin finish. Offering a broader palette of colours, this set contains 12 x 20ml tubes of Professional Acrylic plus a leaflet.

Containing 12 tubes of Professional Acrylic Colour, the finest of the Winsor & Newton acrylic range, this set includes: Azo Yellow Medium, Lemon Yellow, Permanent Alizarin Crimson, Naphthol Red Light, Phthalo Blue Red Shade, Ultramarine Blue, Olive Green, Phthalo Green Blue Shade, Yellow Ochre, Raw Umber, Mars Black, Titanium White.
Why choose Winsor & Newton Professional Acrylic?
Also available individually in 74 colours, including 62 single pigment varieties, to provide the best colour mixing opportunities, Winsor & Newton Professional Acrylic has been developed to provide a longer working time on the palette, without compromising the drying time. Depending on paint's thickness, the working time for Professional Acrylic is approximately 20-30 minutes.
Winsor & Newton Professional Acrylic colour blends easily, and can be mixed with Acrylic Mediums to create various effects, and thinned with water for water colour techniques. Unlike most acrylic paints, which darken in tone as they dry, Winsor & Newton Professional Acrylic incorporates the latest developments in resin technology to ensure colours retain their brilliance when dry.
Professional Acrylic colours do not contain extenders to modify the gloss, allowing the natural properties of the pigments to shine. This means there is some variation in surface sheen across the different colours in the range.
What is Acrylic paint?

Still considered to be the new painting medium, Acrylic Paint was first produced in the early Sixties. Fast-drying and water based, Acrylic paint is comprised of a pigment suspended in an acrylic co-polymer binder. This is then applied to a support such as a canvas. The pigment fixes to the support upon evaporation of the water, producing a slight colour change in the process. Acrylic paint dries to a water-resistant, flexible finish, making it the ideal medium for a number of craft purposes including screen printing and model making.
All colours can be thinned with water to pale washes, or used directly from the pot or tube. The quick drying properties of the range enable the artist to work speedily, and a hairdryer may be used to further accelerate the drying process.
Winsor & Newton Professional Acrylic colours are fully intermixable and suitable for interior and exterior use, making them the perfect medium for all art and craft projects. Once completed and dry, a thin layer of varnish may be applied, to protect and preserve artwork. Varnish is available in satin, matt and gloss finishes.
Acrylic paints are water-based, so brushes used to apply the paint need only mild soap and water to clean them after use. This video illustrates how simple it is to clean and care for acrylic paint brushes.
Which surfaces best support Acrylic paint?
Containing linen textured paper, our Acrylic Painting Pads, feature an exceptional irregular textured surface, offering the ideal tooth for all acrylic colour. Incredibly versatile, Winsor & Newton Professional Acrylic Colour can be used on almost any semi-absorbent surface, including canvas, wood, fabric, ceramic bisque and cardboard.  In some cases, the surface may need to be first treated with a primer. Acrylic can even be painted onto a sheet of glass, and peeled off once dry.  This object can then be mounted as a free standing or hanging sculpture, or cut into pieces to make a mosaic.
Which brushes are best for Acrylic paint?
Specially developed for painting with acrylic colours, acrylic brushes  have synthetic soft filaments, good snap and perfect spring, making them ideal for acrylic painting. Acrylic paint may also be mixed and applied using palette knives.
Which techniques work best with Acrylic paint?
The following links show some techniques on how Acrylics can be used:
Can you explain some of the terms used when painting with Acrylics?
Click here for a glossary of Acrylic painting terms.

Who are Winsor & Newton?
In 1832, William Winsor and Henry Newton introduced the first moist water colours to the world. Today, Winsor and Newton remain the premier choice for artists, offering a wide variety of fine art supplies including: oil, water colour, acrylic and alkyd paints, pastels, artists' brushes, canvases, papers and portfolios.
Michael H.
26/11/2023

5
/5
It is a gift- I am not a painter!
Anonymous A.
20/10/2018

5
/5
Good quality good range of colours
Anonymous A.
31/01/2018

5
/5
I don't know what she'll think but I love them
Anonymous A.
31/01/2017

5
/5
Good value for money
Anonymous A.
14/01/2017

5
/5
Very good
Anonymous A.
14/01/2017

4
/5
The colour range in this pack was different to those that I have been used to and I missed having a cadmium yellow and a cadmium red. Mixing the provided yellow and red didn't give me the results I expected, but this is more a product of my inability to mix colours than the paints. There is an Olive Green, though, so I am pleased about that.
Anonymous A.
24/11/2016

5
/5
Good colours and texture, easy to use.