Sale!
You save 20%
You save 20%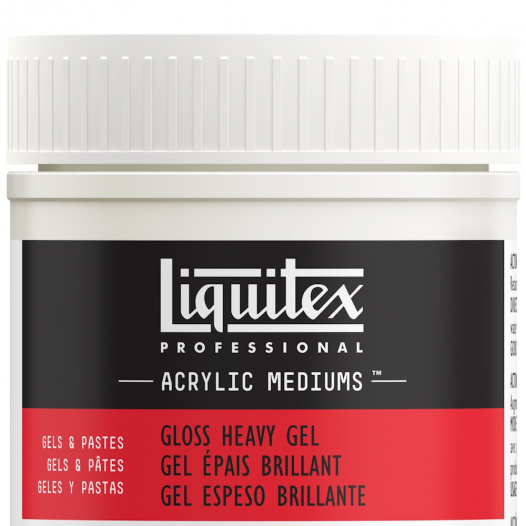 Designed for use with acrylic paints

Heavy body gel

Enhances blending, transparency, adhesion & flexibility
Slows drying time
High gloss finish
237ml pot
Formulated to enhance the creations of artists working with Liquitex Acrylic Paint, but equally effective when mixed with any Acrylic Colour, Liquitex Professional Gloss Heavy Gel produces a brilliant gloss impasto, enhances blending, slows drying time and increases translucency, adhesion and flexibility.
What is a Medium?
Any liquid which changes the consistency of the paint it is mixed with may be classed as a medium. Liquitex mediums are designed specifically for use with acrylic paints, and produce effects ranging from thin glaze to thick impasto, with a variety of choices in between.
Why use a Medium?
By changing the properties of paint, a medium extends the possibilities of how an artist works with the colour, and affords a plethora of exciting techniques and effects.
Acrylic Mediums: Exploring The Possibilities gives further information on the Liquitex range of acrylic mediums, and how they can be used.
Why choose Liquitex Gloss Heavy Gel?
Ideal for thick glazes and brilliant gloss impasto effects, Liquitex Gloss Heavy Gel produces an elevated surface drag when mixed with acrylic colour, similar to that of oil paint. Drying to a transparent or translucent finish, depending on the thickness of application, Liquitex Gloss Heavy Gel keeps extends the artist's working time with paint.    
Fully intermixable, all Liquitex Mediums are water resistant and ph neutral when dry, non-yellowing and permanent.
How do I use Liquitex Gloss Heavy Gel?
An extremely versatile medium, Liquitex Gloss Heavy Gel can be used as:
An Extender: Mix with Liquitex Soft Body or Heavy Body artist colours, to extend volume and increase transparency, viscosity, body and colour brilliance. 
An Adhesive: Use to provide excellent adhesion for collage and decoupage.
A Ground: Use in place of Gesso, as a transparent ground, so substrate may be seen.
A Binder: Use as a binder for powdered pigments, to make an inexpensive extra-heavy body acrylic paint, and with additives such as sand, sawdust and stone.


Can you explain some of the terms used when painting with Acrylic Mediums?
Click here for a glossary of Acrylic painting terms, including the different types of medium.
Who are Liquitex?
Founded in 1933 by Henry Levison, Permanent Pigments, an oil colour producing company from Cincinnati, Ohio developed the first water-based artist acrylic paints. Their new formulation was launched in 1955, under the new company name Liquitex, an abbreviation of "Liquid texture", which Levison believed better captured the product's essence.
Today, Liquitex offers a vast array of intermixable vibrant acrylic paints and mediums, enabling artists to continually explore new and innovative ways of working with Acrylic Colour.
Anonymous A.
02/01/2021

4
/5
Not used as yet but buying was easy
Anonymous A.
29/11/2018

5
/5
Wonderful
Anonymous A.
08/08/2018

5
/5
good
Anonymous A.
01/03/2017

5
/5
Great product, adds texture to paintings.