Sale!
You save 33%
You save £2.79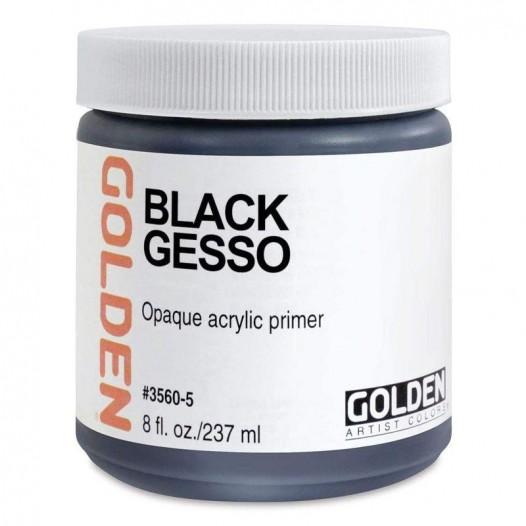 Acrylic painting medium
Seals, protects and gives tooth to substrates
Promotes paint adhesion
Can be used on a wide variety of surfaces
Made in the USA
Video: Golden Artist Colours - Gessoes & Grounds
Golden Black Gesso is a flexible liquid ground that seals, protects, and gives "tooth" to substrates, which promotes paint adhesion. It is formulated to accept a wide variety of media on many commonly used painting surfaces. It comes ready-to-use, but can be mixed with water for thinner applications.
It is flexible and can be applied in thin layers to conform to a variety of textured surfaces without cracking. For oil painting over acrylic gesso, it is recommended that at least three layers of gesso be applied. Golden Black Gesso can be mixed with Golden Acrylics to produce a range of coloured grounds.
Modify Golden Black Gesso by mixing it with a variety of mediums. Spray it, or apply it with brush, roller, or trowel. At least three layers of gesso are needed for oil painting over acrylic gesso.
About Golden Mediums
Golden offer the widest range of mediums for acrylic painting. Their range includes gels, additives and effect pastes, which allows you to choose whatever qualities you desire for your acrylic painting: luminous glazes, gritty opaque structures, string effects, glassy areas or variable drying times. This expansive range gives rise to inspiring possibilities that allow you to do very unusual things. Whatever your needs, our Golden range has you covered.
Jennifer L.
07/04/2022

4
/5
I haven't used this yet as it was recommend to me I'm hoping it's as good as I have been lead to believe.