Sale!
You save 20%
You save 20%
Out of Stock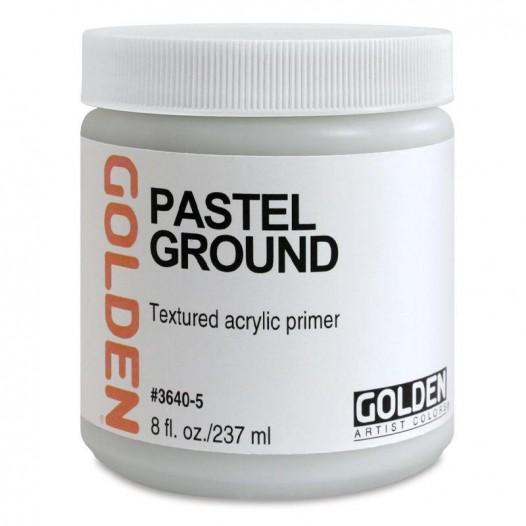 Acrylic painting medium
Prepares surfaces for pastels and charcoals
Very thick consistency
Can be applied to any primed surface
Made in the USA
Video: Golden Artist Colours - Gessoes & Grounds
Golden Pastel Ground is a 100% acrylic medium designed to prepare surfaces for the application of pastels, charcoal and other art media where a coarse tooth is desired. It contains finely ground sand (silica) in a pure acrylic emulsion. Pastel Ground can be applied to paper, canvas, wood or any primed support. This allows almost limitless applications for media typically confined to standard papers.
Due to the weight of the solids in Ground for Pastels, it is produced very thick, and does not come ready to brush-apply. To use, thin 20-40% with water to achieve your desired consistency. Apply with a brush, paint-roller, spray equipment, squeegee or palette knife. Mix up only as much as is needed for one day's work as the solids will settle rapidly and be extremely difficult to mix back into suspension.
For best surface adhesion, apply Golden Pastel Ground over Golden Gesso. It may also be applied over other acrylic mediums, gels, and paints for multi-media work. When used in conjunction with oil-based media, prepare your support (canvas, linen, masonite, etc.) with GAC 100 to block the oil from penetrating into the support, which can weaken or rot natural fibres.
About Golden Mediums
Golden offer the widest range of mediums for acrylic painting. Their range includes gels, additives and effect pastes, which allows you to choose whatever qualities you desire for your acrylic painting: luminous glazes, gritty opaque structures, string effects, glassy areas or variable drying times. This expansive range gives rise to inspiring possibilities that allow you to do very unusual things. Whatever your needs, our Golden range has you covered.