Sale!
You save 56%
You save £49.96
Out of Stock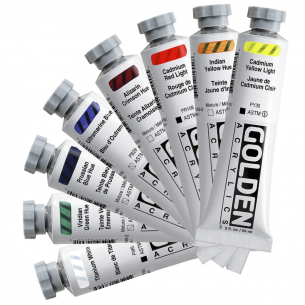 Professional quality
Highly pigmented
A cost-effective basic palette
Mix a full range of hues, tints & shades
Easily adaptable for a wide range of applications
Video: Golden Artist Colours - Acrylic Paint Demo
These eight Golden Heavy Body Acrylics provide a useful palette for acrylic painters working with heavy body viscosity paint. The Golden Heavy Body Classic Theory Colour Mixing set is a more cost effective way to establish a basic palette, capable of mixing a full range of hues, tints, and shades, that can later be supplemented with the wide selection of Golden Heavy Body colour offerings.
The larger tube size gives an ample supply of paint for exploring many mixing and application possibilities. The colours included in this set are as follows: Cadmium Yellow Light, Indian Yellow Hue, Cadmium Red Light, Alizarin Crimson Hue, Ultramarine Blue, Prussian Blue Hue, Viridian Green Hue and Titanium White. Also included is a Heavy Body Application Guide. Fantastic value.
Gary R.
21/02/2023

5
/5
A good selection of paints to try out thicker paint. Colours were as expected from their description. Colour mixing chart was a nice addition.
Julie H.
01/08/2022

5
/5
A gift