Sale!
You save 34%
You save £11.96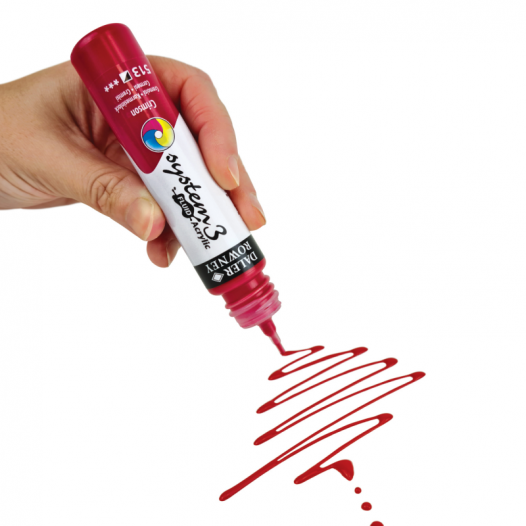 Contents: 10 tubes / pens
Size: 29.5ml
Colours: Assorted*
Water-based, non-toxic fluid acrylic paint
Richly pigmented with excellent lightfastness & permanence
Easy-to-use "pens" feature fine-tip for precise application
Ideal for pouring, dripping, mixed-media & all liquid art techniques
Versatile, apply to multiple surfaces, both indoors & outdoors
*please refer to Contents tab below
With 10 rich, highly-pigmented colours, this set is ideal for newcomers to both fluid art techniques & the System3 Fluid Acrylic Colour range in particular.  These easy-to-use, versatile paints allow you to skip the mediums & enjoy a variety of fluid artforms without sacrificing opacity or colour vibrancy.
Offering fantastic coverage & a high pigment load, you can pour, puddle, drop & drag these colours onto a number of surfaces including stone, wood, paper, textiles & canvas with even, uniform brushstrokes.
Use directly from the tube or mix with a variety of mediums, pastes or gels to achieve a beautiful, unique effects.
Their clear bottle makes it easy to both identify the colour & gauge how much you have remaining, so there's no surprises whilst you work!
Made using a flexible plastic, they feature a fine-tipped nib for accurate, precise applications of colour.
System3 Acrylic Colours
Aimed at making acrylic painting more accessible, affordable & straightforward than ever before, the System3 range from Daler-Rowney is a complete suite of high-quality, intermixable materials including paints, inks, mediums, brushes, surfaces & more!
The staple of this range, recognised for their consistency, versatility & covering power are the iconic System3 Acrylic Colours.  These undeniably versatile paints are available in several variations including Soft, Medium & Heavy Body, along with the newer Fluid Acrylic Colours.
Made using a combination of high-quality, incredibly concentrated pigments with a smooth acrylic binder, the 54 available colours feature a range of lightfastness & opacities.  Effortlessly mix colours, tones & shades directly from the tube, or use a medium to achieve some amazing effects!
Suitable for a number of surfaces including canvas, paper, wood, glass, plastic & textiles & drying quickly to a water-resistant, semi-gloss (satin) finish, they're suitable for use both indoors & outdoors.