Paper.
Yes, paper.
It's everywhere, we've all seen it, we've all used it. But did you know, as simple as it may be, it's a fantastically versatile material that can be used for a variety of colourful, imaginative creations?
Whether you're looking for something challenging and intricate, or something fun to create with the kids, we've put together 5 paper craft ideas for you to try your hand at. 
1. Paper Flowers
Paper lends itself wonderfully to the creation of flowers, and there are a couple of techniques you can choose from. Origami, the Japanese art of paper folding, can be used to craft an assortment of flowers such as cherry blossoms, lilies, roses and tulips. 
If origami isn't your thing, you can create some beautiful blossoms by simply cutting out a variety of different-sized petals, overlapping and layering them to create the head of the flower.  An important note though, you may need to use small clips or pegs to hold the petals in position whilst the glue dries. 
2. Wreaths for all Occasions
When you think about it, wreaths are simply fancy doughnut shapes, making them extremely easy to create & adapt to suit various designs, seasons or celebrations.
To start, simply cut a ring (or doughnut) out of some thicker card to use as a base, ready to cover with your paper creations.  You could use your paper flowers, paper leaves or rolled paper.  If you want to make your wreath stand out, you could even use some textured or patterned paper. 
Want to get the kids involved in this fun paper craft?
Create a template by drawing around their hand, cut out multiple handprints & use them to build the "foliage" of your wreath.  You can even customise these based on the season if you'd like by using oranges, greens and browns for an Autumnal vibe, or different shades of green embellished with red paper 'berries' for Christmas. 
3. Rolled Paper Picture Frame
Simple to create, making a great gift or unique piece in your own home.
Firstly you'll need to start with the base, so grab yourself some thick card, then you'll need to cut out some long strips of paper (around 2cm wide).  Colours or patterns are both fine, go with whatever you'd prefer!
Roll the strips of paper (a cocktail stick can be helpful at this stage) & stick the swirls onto your card base, rinse & repeat until the frame is completely covered.
Yes, this can be messy, but once you see the final product, we're sure you'll agree that its both one of the easiest & most effective things to create out of paper.
4. Decoupage 
Decoupage is an incredibly versatile & popular form of papercraft that allows you to create something truly unique simply by covering an object in paper.  The best part is that you can do this with nigh on anything, from small models & toys, all the way to pieces of furniture!
If this is your first time, it's best to start by finding something simple to cover, such as a small box or even (and we know this sounds odd) a hard-boiled egg.  Then, using a paintbrush & some glue (Mod Podge is fantastic for this!), start to add patches & layers with patterned or coloured sheets of thin paper.  Tissue or crepe would be best, but you could even use old comic books, newspapers or magazines. 
Can't find the right mask for Halloween, decoration for Christmas or fake eggs for an Easter hunt?
That'll never be a problem again, with decoupage you can just create your own!
5. Paper Fortune Cookies
Undeniably cute, these fortune cookies make for fun ways to share messages & news amongst friends, family & loved ones. Have an event or dinner party coming up?  They also make great table decorations, suitable for any & all occasions.
Once you've chosen the perfect pattern for your fortune cookie, you'll need to use a circular template (around 3" in diameter) & cut out circles to form the base of your "cookie".
Create a crease in each circle by folding it in half, then half again the opposite way.  Unfold your circle & roll it into an oblong shape. One last fold made lengthways, you'll soon see fortune cookie coming to fruition.
Now you can add your message before sealing it up with a little glue.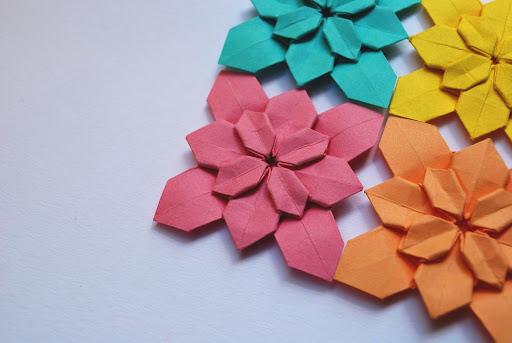 Want to get started? 
Here are all the supplies you'll need to give these paper crafts a try
Paper and card - a variety of colours and weights
Fast-drying glue (you could use a hot glue gun, but it can get a little messy!) 
Cocktail stick
Small pegs/clips
Circular template (approx diameter of 3 inches.)
We'd love to see your paper creations! You can share them with us by tagging our Instagram page.
< Back to blog