An artist can only be as good as their tools, which is why selecting the right brushes for your paint is essential. Not only will a better-quality brush improve your art, but it will also be more durable, meaning you don't have to repurchase each time you wish to start a new project.  If you're struggling to make a choice, we can help you decide which is the best oil paint brush for you. 
What is Oil Paint?
Oil paint is a type of paint made by mixing pigments with a drying oil, such as linseed oil, poppy seed oil, or walnut oil. The paint creates subtle variations in colour and texture, perfect for creating delicate pieces, particularly those that favour realism. Oil paint notably has a notoriously slow drying time, which allows for more blending and layering of the paint. 
Choosing Your Brush
When it comes to selecting the right brush for oil paint, it is important to consider your own style of art. Brushes used for oil painting come in many different shapes and sizes, each with its own purpose. Some of the most common types of brushes include:
Round brushes - Perfect for fine detail work and making small, precise brushstrokes
Flat brushes - Good for covering large areas and creating smooth, even surfaces.
Filbert brushes - The rounded tip is great for blending and creating soft edges.
Fan brushes - Used for creating texture and blending large areas.
Da Vinci Maestro2 5123 Single Flat Brush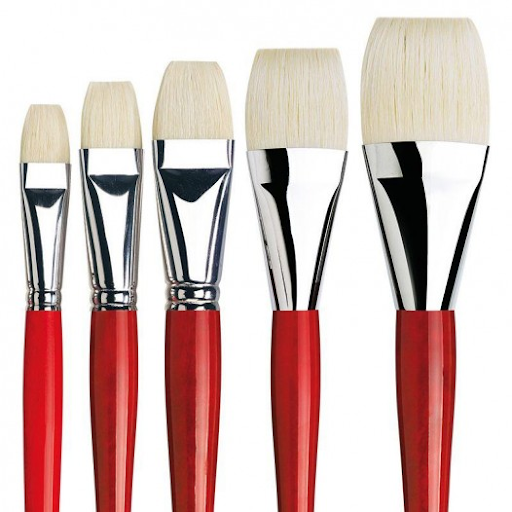 The Da Vinci Maestro2 is a series of stunning brushes, featuring hog bristles that are worked deeply into the ferrule. Developed to be used with oil paints, these brushes can also be used with acrylic colours. The flat shape allows you to create beautiful wide strokes, such as those used for backgrounds, as well as finer strokes using the brush edge. 
Pro Arte Series B Round Single Hog Brush
With premium quality at such an economical price, the Pro Arte Series B Round Single Hog Brush should be a staple in any artist's collection! The brushes feature long cream wooden handles, with seamless nickel brass ferrules for comfort. Designed purely for oil painting, the brushes have a small tip which is ideal for adding fine details to your artwork. What's more, these oil brushes come in a handy wallet for easy storage!
Pro Arte Series C Studio Single Fan Hog Brush
The long, fanned hog bristles on these brushes will take your artwork to the next level! Characterised by their flatted ferrule and bristles spread into a distinctive fan shape, fan brushes are mostly used for blending large areas of colour, as well as smoothing and shading various tones. The Pro Arte Series C Studio Single Fan Hog Brush is priced with student painters in mind and is available at a very modest price.
If you're looking for a good-quality oil brush, be sure to browse our selection. A good set of brushes is important in any artist's collection, but to keep them in top condition it is essential to take proper care of them. Take a look at our guide on How to Clean Oil Paint Brushes to find out more.
< Back to blog