More than just mere tools, brushes work as an extension of an artist's creativity & vision.
A crucial element to finding the right brush is finding the right bristle.  Not only can different bristle materials affect the way a brush handles & applies paint, but also either limit or expand the textures, effects & finishes an artist can achieve.
In this blog, we'll be taking a closer look at various bristle types, breaking them down, highlighting their characteristics & the techniques they're best suited for.
.
Natural
Made using a variety of animal hairs, the most prominent examples being hog, sable, or squirrel hair.  The brush's stiffness, resilience, water absorption & paint-holding capacity can all be dependent on the hair chosen.
As these are traditionally made brushes that have been utilised for centuries, it would be admittedly difficult to promote or recommend one particular range or series.  Instead, we would recommend taking some time to browse through our Brush category to get a full scale of the options available.
Hog
Naturally thick & coarse, hog hair is renowned for it's strength and stiffness, making it an ideal choice when working in thicker mediums such as oil or acrylic colours.  Their coarse nature helps to create textures & impasto effects.
Sable
Popular amongst watercolourists, these bristles have been taken from the Kolinsky sable.  Prized for various reasons including their softness, fine tips & especially their exceptional water-holding capacity.
Squirrel
Most commonly utilised for delicate washes & blending with watercolours, squirrel hair bristles aren't suitable for heavier mediums due to their exceptional softness & absorbency.
.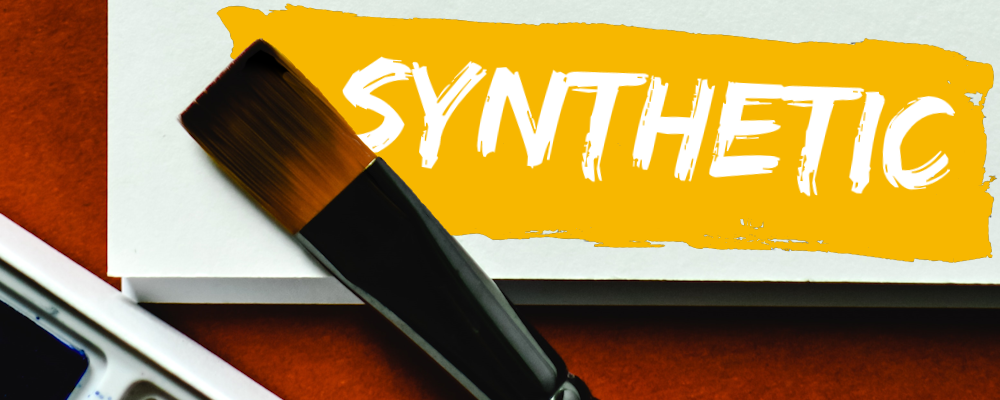 Synthetic
Generally designed to mimic the characteristics of natural hair, synthetic bristles are made from man-made materials such as nylon, polyester or Taklon and offer several advantages including durability & affordability.  Notable examples include the new Casaneo & Chuneo ranges from Da Vinci & the Sablene brushes produced by Pro Arte.
Nylon
Suitable for a multitude of mediums from thin to thick, these versatile bristles are renowned for their durability & flexibility.  Although perfectly suited to a number of applications, they're most used with acrylic colours.
Polyester
Much like the above, polyester bristles are durable & resilient, making them suitable for heavier mediums such as acrylic or oil colours.  Able to effectively hold their shape throughout use, they're ideal for precision work & fine details.
Taklon
Taklon bristles closely resemble natural sable hair, making them the preferred choice for artists looking for the performance of natural hair without resorting to animal-derived materials.  They work well with almost all mediums, but especially water-based options like watercolours, acrylic & gouache.
Looking for more?  Head on over to our Brush category & have a look through our full range of options now!
.
Alternatively, if you'd like more details on this or anything else, feel free to speak to our team using the details below.
Email: admin@cowlings.com
Telephone:  01303 290550
Looking for our socials?
Click here to visit our Instagram, Twitter & more!
< Back to blog