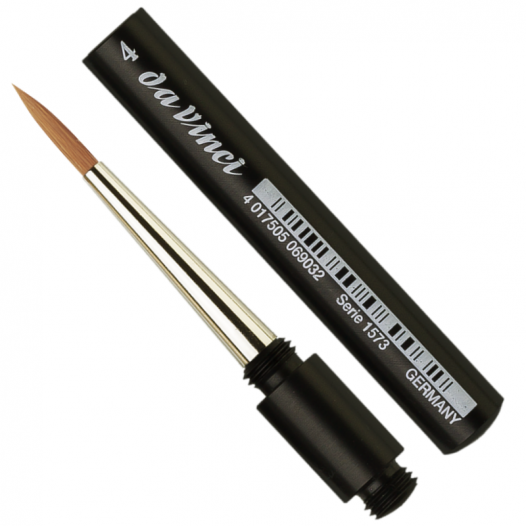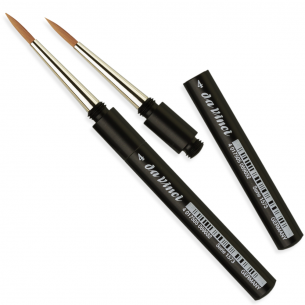 Size 4 Travel Brush
Virtually indestructible body
Synthetic bristles
Unscrewable brush head
Maximum snap at the point
Ventilation hole for proper drying
Seamless silver ferrule
Suitable for all liquid colours
Video: Da Vinci 1573 Travel Brush Demo

Da Vinci produces the finest travel brushes of them all. The 1573 Series travel brush is made with a virtually indestructible body and all-purpose synthetic bristles. If well looked after, these brushes will last for years and years.

The double section handle protects the brush head in transit and unscrews to form a comfortable handle. Shaped like the Series 10 for maximum resilience and snap at the point, with an indestructible outer casing for protection when travelling and a ventilation hole to enable the brushes to dry properly.

Each 1573 Series brush contains the finest light-brown synthetic fibre, and features a silver ferrule, as well as a double section black artificial horn handle. These brushes are suitable for all liquid colours, especially for watercolour and silk painting.

The 1503 & 1573 Series are, we believe, the best travelling brushes available today. Because of Da Vinci's guaranteed reliability the shape holding and durability characteristics are outstanding.
Anonymous A.
14/09/2021

5
/5
great prices good service
Anonymous A.
19/11/2016

5
/5
practical good quality