Sale!
You save 20%
You save 20%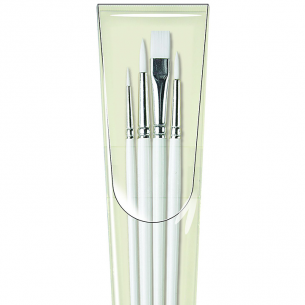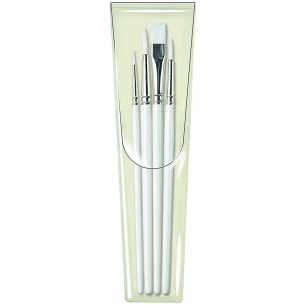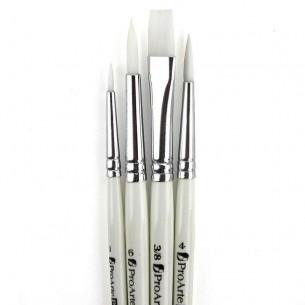 Assorted set of 4 x brushes
Synthetic Polar Nylon filament
Includes both "Round" & "Flat" tips
Soft, yet durable bristles
Good colour holding properties
Strong spring retains brush shape
Suitable for acrylic, watercolour & crafts
Includes convenient, reusable plastic wallet
Ideal for craft projects & lighter or water-based mediums such as acrylics & watercolours, the 31WA set from Pro Arte is a cost-effective, high-quality set of 4 assorted highlights from both the Series 31 & Series 32 ranges.
Each brush features white "Polar" filaments made using synthetic nylon for a durable, soft bristle.
Absorbent & able to produce clean, consistent, crisp lines every time thanks to their substantial spring helping to maintain their tips, even through rigorous use.
Featuring several round brush tips, the most common form thanks to their ability to produce an impressively broad range of strokes, from exceptionally fine lines for detailed work, all the way to washes for largescale work.
The addition of a Flat tipped brush not only brings variety to the set, but the ability to carry more paint & a wider range of flexibility for more stylised or flourished strokes.
Contents
Series 31 (Round) - no.1
Series 31 (Round) - no.4
Series 31 (Round) - no.6
Series 32 (Flat) - 3/8"
Nicola W.
14/05/2023

5
/5
My fave brushes for oil painting. Cheap, but they last. No loose bristles.
Anonymous A.
03/02/2022

5
/5
Amazing value considering the price!
Anonymous A.
01/08/2018

5
/5
Great
Anonymous A.
02/05/2018

5
/5
Extremely useful basic brushes. Good value and better than you'd expect for the price.
Anonymous A.
18/07/2017

4
/5
Good for the price