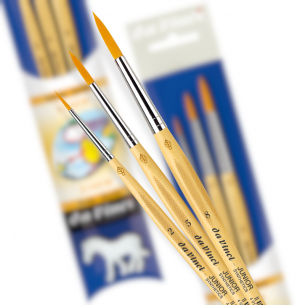 Multi-purpose synthetic brushes
3 x round brushes
Ideal for younger students
Includes a toy elephant
Manufactured by Da Vinci, the world's finest brushmaker
Strong long-lasting tips
Design quality ensures the shape of each brush remains after long use
Made in Germany
These excellent quality multi-purpose brushes are ideal for a variety of art and craft applications, for young artists of all abilities. Included in the set are three round brushes in sizes 2, 5 & 8, as well as a fun toy elephant.

Their design quality ensures that the shape of each brush is retained even after long use. Made in Nurenberg, Germany by Da Vinci, arguably the world's finest brush manufacturer.