Sale!
You save 20%
You save 20%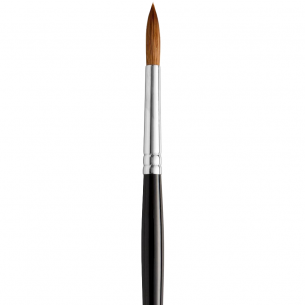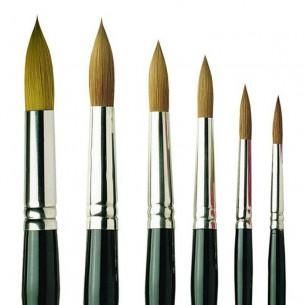 Designed and formulated for use as a watercolour brush
A beautiful blend of synthetic prolene and sable hairs
This is a brush that satisfies the purist
Looks and feels like sable
A great favourite with artists for many years
Seamless nickel ferrules
Black polished handles with red and white tips
The Connoisseur 100 brush series from Pro Arte is a beautiful blend of synthetic prolene and sable hair. This mix is critical and took time to perfect but the result is remarkable.
This is a brush that satisfies the purist. It looks and feels like sable, holding colour and pointing in the manner that one would expect from a Pro Arte brush. It also delights the thrifty with its long-lasting synthetic content, which helps to keep the price way below a Kolinsky sable.
Designed and formulated for use as a watercolour brush, it performs well in every way and has been a great favourite with artists for many years. Each brush has a seamless nickel ferrule and black polished handles with red and white tips.
David M.
14/03/2023

5
/5
Excellent brush.
Carole S.
14/03/2023

5
/5
Needed 2 finer brushes for detail, these fitted my price range and the quality also good.
Anonymous A.
11/01/2021

5
/5
Absolutely gorgeous brushes!
Anonymous A.
06/01/2021

5
/5
Brushes are good quality, however the plastic bristle protectors were broken or the wrong size.
Anonymous A.
09/12/2020

5
/5
Again , I haven't used them yet but they look good
Anonymous A.
13/11/2020

4
/5
These were nice brushes, though they don't keep their shape as well as I'd hoped, but still good.
Anonymous A.
01/07/2019

5
/5
Like the way the brushes perform. They are hard wearing with the round ones coming to a nice point as well as holding a good amount of paint. I would certainly recommend them.
Anonymous A.
21/11/2018

5
/5
High quality product.
Anonymous A.
27/04/2018

5
/5
superb
Anonymous A.
03/03/2018

3
/5
I would have rated higher as I like the brushes very much, but was not impressed by how they were packaged. They had no plastic tube to protect the brush heads, they were not even taped to a bit of card for stability and to prevent damage in transit. They arrived bent and 'frayed'. However thankfully no permanent damage has been done and they seem to work fine.