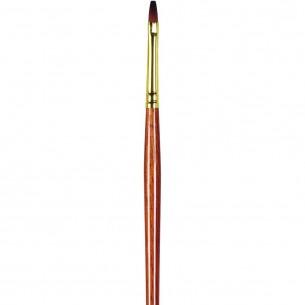 Available in a range of sizes
Sold Individually
Synthetic Prolene filament
Hardwearing, with great spring
Good colour holding properties
Ideal for lettering and one-stroke work
Seamless nickel ferrules
Polished black handles with gold tips
The Series 008 from Pro Arte is one of the flagship ranges in their popular "Prolene" collection, ferruled in beautiful gold plate with beautiful teak handles.
Featuring a Flat brush tip, these already incredibly versatile brushes have been developed especially for additional reliable control & movement, making them ideal for lettering, borders & general one stroke work.
The Prolene filaments have been made using only the highest quality synthetic materials for a hardwearing, reliable bristle with great colour holding capabilities.
Along with this, they're exceedingly hardwearing & durable, their strong spring working to maintain the point & shape, even through excessive use, making them a wonderful investment.
Anonymous A.
31/03/2021

5
/5
Nice brush for the price.
Anonymous A.
24/11/2020

5
/5
As present I can't rate.
Anonymous A.
04/03/2019

4
/5
Good value
Anonymous A.
28/07/2018

5
/5
Spot on.
Anonymous A.
08/06/2018

5
/5
Superb!