Sale!
You save 20%
You save 20%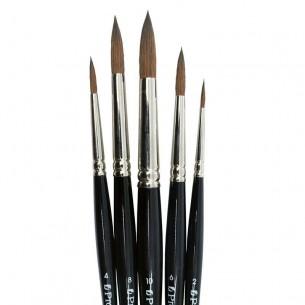 Set of 5x "Sablene" brushes
Synthetic alternative to sable hair
Suitable for watercolour, ink & more
Includes convenient, reusable plastic wallet
The 38WB brush set from Pro Arte features 5 brushes with their "Sablene" filaments, a synthetic, cost-effective alternative to natural Sable hair in a convenient, reusable wallet.
Sablene bristles are almost indistinguishable from traditional Sable hairs, able to absorb & retain moisture effectively, along with retaining their spring & maintaining their point.  This is thanks, in part, to their unique "Wave Synthetics" that provides a softness & durability by using small gaps in the various fibres.
Suitable for a range of water-based mediums including watercolour, gouache, ink & more.
Featuring Round tips in a variety of sizes, the most common form thanks to their ability to produce an impressively broad range of strokes, from exceptionally fine lines for detailed work, all the way to washes for largescale work.
Contents
Sablene (Round) - no.2
Sablene (Round) - no.4
Sablene (Round) - no.6
Sablene (Round) - no.8
Sablene (Round) - no.10
Anonymous A.
09/02/2021

5
/5
Genuine pleased with these brushes. Hold colour really well and are pretty darn close to real sable. They have good spring back snd hold their shape.