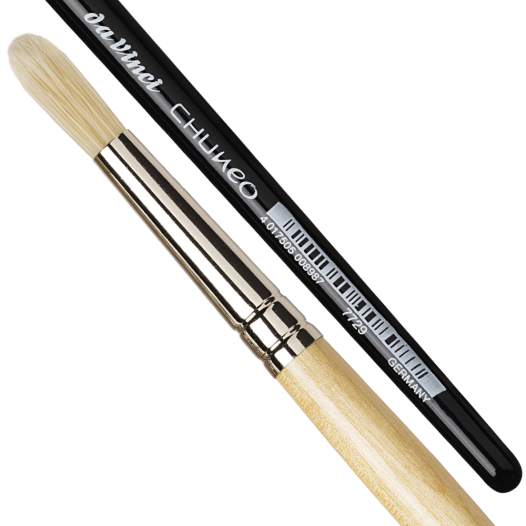 Range of sizes available
Sold individually
Media:  Oil / Acrylic
Fibre:  Synthetic Hog Hair
Head:  Round
Ferrule:  So-Called Silver
Handle:  Long, natural with black ends & polished finish
Chuneo
 from 
Da Vinci
is a revolutionary range of brushes designed to emulate "Hog Hair" bristles using 100% synthetic fibres.
Vegan, cost-effective, durable, easy to clean & available in several sizes and styles, these are a truly environmentally conscious alternative without sacrificing quality.
7729 Round brushes are fantastic "all rounder" options, with almost limitless applications.
Malleable enough to create anything from finer detailed work all the way to background washes.
Lesley P.
06/11/2022

5
/5
Good quality basic brush at reasonable price. Works well with water mixable oils as the filaments are synthetic. (Hog bristles have a 'bad hair day' when used with water.)
Anonymous A.
22/03/2022

5
/5
Great for lines and lettering, it's another 10 from Len and quality is what I don't see enough of , Bri D