Sale!
You save 32%
You save £25.01
Out of Stock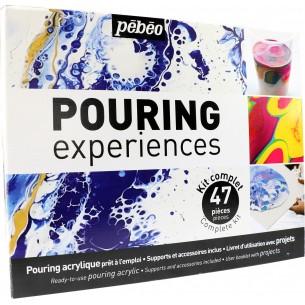 Complete pouring starter kit!
8 fluid acrylic paints, pre-mixed with medium
1 bottle of silicone oil
4 canvases - 20x25cm
3 bags of glitter
8 wooden sticks
8 measuring cups
5 pipettes
4 gloves
2 painting knives
1 squeegee
1 protective sheet
1 lifting support
1 user guide with step-by-step instructions
Perfect for both beginners & artists familiar with the technique, this Pebeo Experiences Pouring Kit is a complete & comprehensive must-have for learning & experimentation.
Included are 8 fast-drying acrylic paints, pre-mixed with the appropriate medium, along with every little possible tool & necessity to start creating straight away.
Better yet, your masterpieces will be dry in 24 hours!
Also included is one 50ml bottle of silicone oil.
Simply add a few drops of this to create beautiful cells in your work, play with how much & where you place this to get different effects & strengths!