Sale!
You save 33%
You save £2.76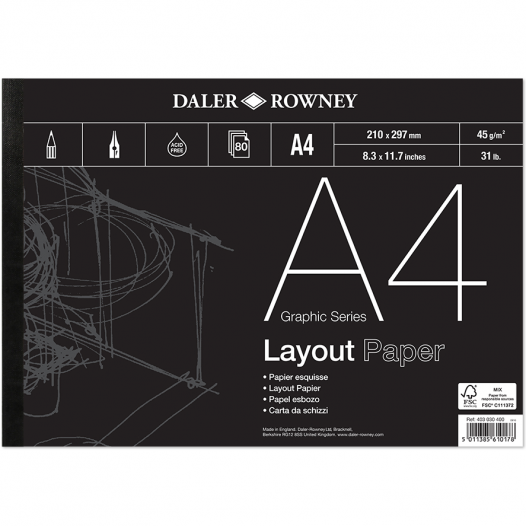 A versatile all-rounder
Landscape orientation
Ideal for sketching and technical drawing
Smooth, translucent surface suitable for tracing
80 sheets per pad
45gsm paper
Available in 3 sizes
Daler-Rowney Layout Pad
These Daler-Rowney A Series Layout Pads are an excellent-quality product at a surprisingly low price. A crisp, white illustration paper, Daler-Rowney Layout paper provides the perfect surface for sketching and preliminary drawings. The smooth, translucent surface of this paper makes it suitable for tracing designs and images in a range of mediums. Whatever your style of drawing or sketching, this excellent layout paper is a quality and affordable choice.
You'll find these layout paper pads are a versatile all-rounder, whether you use them for graphite sketches, marker-pen illustrations, calligraphy or technical drawings. Each Layout Pad contains 80 sheets of 45gsm paper meaning you have more than enough for your detailed art projects. These Daler-Rowney Layout Pads come in three sizes, A2, A3 and A4, so you can work on artworks of all sizes.
Using Layout Paper
Layout paper is a simple product with a wide range of uses. It's semi-transparent characteristics make it ideal for sketching ideas and picturing the final product before commiting to the canvas. Additionally, you can use a graphite pencil to create a perfect copy of an existing illustration or piece of artwork. This is an excellent way to produce multiple identical drawings or sketches when done correctly.
Graphic Series by Daler-Rowney
Daler-Rowney Graphic Series Paper high quality pads feature papers of a variety of textures and weights. The Graphic Series range supports a wide range of techniques from dry media, sketching, illustration, tracing, painting, markers and inks. With an exquisite balance of quality and price, these layout paper pads are ideal for students as well as for professional artists.
Karen G.
30/06/2022

5
/5
I always like to have layout paper as it has so many uses and this is acid free too. I have used Daler Rowney Layout pads before and trust it as a good brand.
Glyn M.
17/01/2022

5
/5
This is a product that I have been using for 20+ years and have always been satisfied with the quality.
Anonymous A.
08/11/2021

5
/5
The strength of this paper were just what I was looking for, a lovely smooth surface and the block holds together well. Strongly recommend.
Anonymous A.
04/11/2021

5
/5
The best detail paper on the market.
Anonymous A.
16/07/2021

5
/5
Great quality paper from a trusted name. Supplied by a trusted supplier.
Anonymous A.
04/02/2021

5
/5
Use this all the time. For the last 12 years. Great.
Anonymous A.
25/01/2021

5
/5
I have layered with this paper :)
Anonymous A.
22/11/2020

5
/5
Use these pads all the time, they do exactly as described, great product
Anonymous A.
22/07/2020

5
/5
arrived quickly and well packaged.
Anonymous A.
19/07/2020

5
/5
Good quality lightweight layout paper, exactly what I need.
Anonymous A.
28/09/2019

5
/5
Exactly as described and perfect for the job
Anonymous A.
18/12/2018

4
/5
Good
Anonymous A.
13/08/2018

5
/5
Daler-Rowney is a brand I trust. This is a high quality cartridge paper.
Anonymous A.
22/02/2018

4
/5
as a anticipated; thank you
Anonymous A.
15/04/2017

5
/5
Excellent. This is not the first time that I have bought Daker Rowney Layout paper and have always found it first class.
Anonymous A.
25/02/2017

5
/5
It does exactly what the description says it will
Anonymous A.
08/02/2017

4
/5
My daughter is very happy with product
Anonymous A.
28/01/2017

5
/5
Excellent quality and I strongly recommend
Anonymous A.
18/01/2017

3
/5
Ok ok
Anonymous A.
14/01/2017

5
/5
It's just what I needed and the quality is remarkable
Anonymous A.
15/11/2016

5
/5
I'm addicted to them for initial design work, drawing on paper is so much faster than drawing on screen to get an idea down, thin enough to see through for tracing, but opaque enough to scan, cheap enough never to mind starting a new page.