Sale!
You save 37%
You save £5.26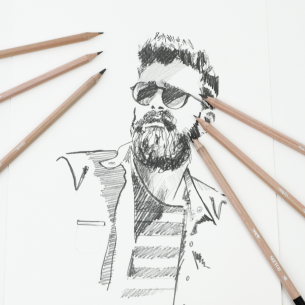 A mixture of sketching essentials
Features graphite pencils, pastels, charcoal sticks & more!*
Included is a fully articulated 12cm (4.7") wooden manikin
Ideal for newcomers, students & hobbyists
*for more, please check under Contents Tab
These sketching materials from Daler-Rowney are a part of their Simply range.
Developed to give newcomers, students & hobbyists alike access to art materials in a cost-effective way without sacrificing reliability, standards or value.
With a variety of necessities including graphite pencils in a range of grades, sketching pastels, compressed charcoal & more.
Providing a real opportunity to experiment, learn & (most importantly) have fun, as each of these can be used individually or in tandem.
Included in this set is a 12cm (4.7") fully articulated wooden manikin, ideal for reference when practicing poses, positions & scale.
Video: Daler-Rowney Simply - Sketch & Draw
Contents
3 x Graphite Sketching Pencils: HB // 2B //4B
2 x Pastel Sticks
1 x Compressed Charcoal Stick
2 x Blending Sticks
1 x Eraser
1 x Sharpener
1 x 12cm (4.7") Manikin