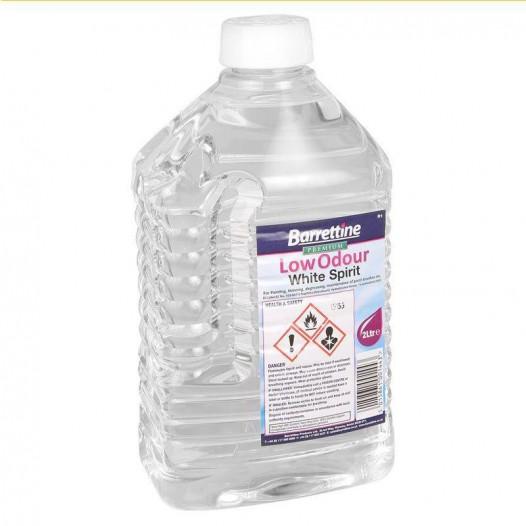 Professional grade solvent
Ideal paint thinner
Quick-drying
Available in 750ml & 2litre bottles
Much-reduced odour than traditional white spirits
Barrettine White Spirit is a professional grade petroleum solvent that acts as an ideal thinner for paints due to its high solvency powers, quick-drying properties and lack of greasiness. Available in 750ml & 2 Litre bottles.

Low Odour White Spirit, has a much-reduced odour compared with traditional White Spirit and therefore is more suitable for indoor use and when used in confined spaces. Many painters use white spirit for general cleaning and degreasing as well. Barretine White Spirit is also great for cleaning brushes after use. It works on solvent-based paints such as gloss, eggshell or varnishes and stains. Conforms to BS 245. 
Anonymous A.
11/04/2022

5
/5
It's low odour is good, when using oil paints it cleans well.
Anonymous A.
29/03/2022

5
/5
Very pleased with my purchase.
Anonymous A.
27/01/2021

5
/5
Low odour, good size and the bottle didn't arrive damaged like the last company I used.
Anonymous A.
03/01/2021

5
/5
The dog is still here so it must be working well
Anonymous A.
10/11/2020

5
/5
excellent
Anonymous A.
01/04/2019

5
/5
good product very little odder
Anonymous A.
27/02/2019

5
/5
Good value for the money