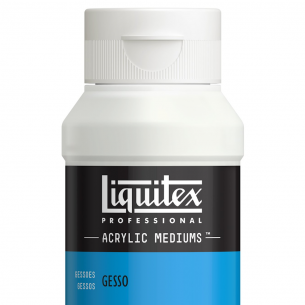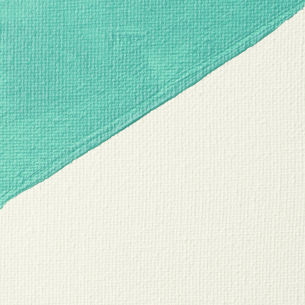 Quality Gesso designed for use with acrylic paints
Excellent base coat primer
Prepares a number of surfaces
Opaque, matt finish
Flip-top lid
Formulated to enhance the creations of artists working with Liquitex Acrylic Paint, but equally effective when used with any Acrylic Colour, Liquitex Professional Gesso is an excellent base coat primer, suitable for preparing a number of surfaces prior to the application of acrylic paint.
What is Gesso?
Traditionally comprising of a binder, pigment and chalk or gypsum, Gesso primer is a base layer applied to canvas or other substrates, prior to painting. With an increased flexibility and archival life, modern gesso is a combination of chalk and pigment in an acrylic polymer medium.
Why use Gesso?
Providing better adhesion by adding tooth to the surface, priming with gesso also prevents paint soaking into the support, and adds a strengthening foundation, allowing application of heavier media.
Why choose Liquitex Gesso?
A premium acrylic gesso, used to prepare painting surfaces for acrylic and oil paint, Liquitex Gesso is a superb, non-yellowing base coat primer, also available in 473 ml and 3.78l sizes. Flexible and non-cracking, one coat of Liquitex Gesso is sufficient for most applications.
This video gives further information on Liquitex Gesso.
How do you use Gesso?
Adaptable and versatile, Liquitex Gesso may be used undiluted or thinned with water. Liquitex recommend using an equal mixture of water and Liquitex Matte Medium to thin gesso by more than 25%. Coloured gesso can be obtained by tinting with up to 10% Liquitex Soft Body or Heavy Body artist colours. 
This guide gives further information on Gesso: How To Prime A Canvas For Acrylic Painting.


Who are Liquitex?
Founded in 1933 by Henry Levison, Permanent Pigments, an oil colour producing company from Cincinnati, Ohio developed the first water-based artist acrylic paints. Their new formulation was launched in 1955, under the new company name Liquitex, an abbreviation of "Liquid texture", which Levison believed better captured the product's essence.
Today, Liquitex offers a vast array of intermixable vibrant acrylic paints and mediums, enabling artists to continually explore new and innovative ways of working with Acrylic Colour.
Julie B.
31/01/2023

5
/5
Great gesso - good quality. I wouldn't use any other make now.
Anonymous A.
23/11/2020

5
/5
Good value
Anonymous A.
30/06/2018

4
/5
I haven't used it yet but am sure it will be good as it is a Liquitex product.
Anonymous A.
28/04/2018

5
/5
Great quality
Anonymous A.
20/02/2018

5
/5
Not used gesso before but this seems fine.
Anonymous A.
02/07/2017

5
/5
Great price on my favorite gesso primer, repeat buyer by the bucket load!
Anonymous A.
11/03/2017

5
/5
very good.
Anonymous A.
26/10/2016

5
/5
Haven't used it yet but I really rate Liquitex products. Nice size bottle with flip top lid meaning that hopefully I won't get as messy!
Anonymous A.
23/10/2016

4
/5
Very good