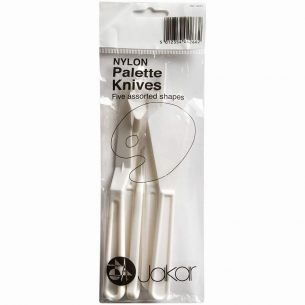 Pack of 5 palette knives
Includes a variety of shapes
Flexible, sturdy & versatile
Made using high-quality white nylon
Suitable for acrylic, oil, gouache & more!
Featuring an assortment of 5 different shapes & sizes, this pack of Nylon Palette Knives from Jakar is an ideal, cost-effective option for beginners, students & artists working to a budget.
Made using high-quality nylon that's sturdy enough to be used with denser mediums, such as oils or heavy body acrylic paints whilst remaining flexible enough to allow for smooth, gliding movements when in use.
The variety included allows for a broader range of possibilities & experimentation in your artwork.
Amanda C.
14/04/2023

3
/5
They are very flimsy. I am a complete beginner so perhaps I need to use them more but they aren't great for mixing and applying paint with.
Steve M.
27/03/2023

4
/5
Basic, cheap and practical (as long as you're not too heavy with them)
Anonymous A.
27/03/2022

4
/5
I bought these to use with my new hobby sculpting, I do know they aren't sculpting tools but I like to have numerous tools that could give me the effect that I'm looking for in my sculpting.
Anonymous A.
21/09/2021

4
/5
Just a little flimsy but absolutely great for the price
Anonymous A.
04/09/2021

5
/5
good as described
Anonymous A.
17/08/2021

5
/5
Just what I needed, completely satisfied.
Anonymous A.
02/07/2021

4
/5
For a beginner, they're good value and fair quality
Anonymous A.
28/09/2020

4
/5
Bought this set to get the angled knife as none (cheap) found elsewhere. These plastic knives look sturdy and should suit my purposes.
Anonymous A.
11/10/2019

4
/5
Haven't really used thease yet but they feel good in my hands
Anonymous A.
07/10/2019

3
/5
not yet used but members of my art club use and recommend them.
Anonymous A.
07/11/2018

5
/5
Really good nice and thin perfect size
Anonymous A.
26/01/2018

5
/5
Inexpensive,but great to work with. Very flexible plastic and ideal weight to tak along when on a long holiday. Great for outdoors and easy to clean.
Anonymous A.
20/09/2017

5
/5
Great set
Anonymous A.
15/03/2017

5
/5
This little set stands in for my old tools and wash up brilliantly