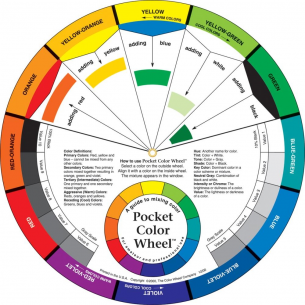 Pocket Colour Wheel
Explore colours & combinations

A pocket-sized, double-sided colour guide

Instructions printed directly on the wheel

An educational tool for artists of all experience

Learn about colours, tones, hue, mixing & more!
This conveniently pocket-sized colour wheel is ideal for artists looking to understand the complex relationships between colours, no matter the discipline, age or experience!
Featuring 10 basics colours, easily defining the terms & demonstrating the base concepts of colour mixing including complementary, split complementary, diads, triads, hue, tint, tone, shade, analogous, achromatic etc.  Included is an additional detailed greyscale chart, showing the clear define between the various tones.
All instructions are printed directly on the Colour Wheel itself, allowing it to be simple enough for a newcomer but detailed enough for the staunch professional, this Colour Wheel is ideal for absolutely everyone.
Judre S.
25/11/2023

5
/5
Oh I am so glad I have ordered .It's very useful for mixing the colours
Anonymous A.
20/04/2022

5
/5
Small and easy to use
Anonymous A.
18/08/2021

5
/5
Good explanation.
Anonymous A.
10/04/2021

5
/5
Really handy to pick colours so you don't end up with muddy colours
Anonymous A.
23/03/2019

5
/5
Very good service
Anonymous A.
08/11/2018

5
/5
Hopefully help with mixing
Anonymous A.
25/04/2018

5
/5
very useful
Anonymous A.
30/11/2016

5
/5
Useful tool.