Sale!
You save 36%
You save £44.96
Out of Stock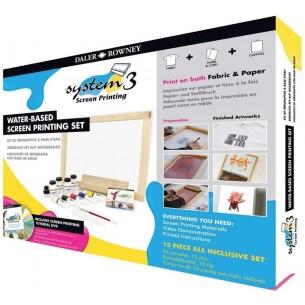 Wooden Frame with high-quality mesh (41cm x 55cm)
Squeegee (28.5cm x 8mm)
5 x 75ml tubes of System 3 Original Acrylic Colour
Printing Mediums
Instructional DVD
Developed by Daler-Rowney for lovers of acrylic, the System 3 range is a complete suite of high-quality, intermixable materials comprising of paints, mediums, brushes, surfaces & accessories.
Suitable for use with paper, canvas & fabric with a range of acrylic colours, mediums, tools, a mesh screen, instructions & a tutorial DVD, this set is perfect for anyone interested in picking up screen printing recreationally.
Video overview: Screen Printing with Daler-Rowney System 3 Acrylics

Why choose Daler-Rowney System 3 Screen Printing Set?
Featuring five vibrant System 3 colours: Vermillion Hue (588), Ultramarine (123), Process Yellow (675), Process Black (040) and Titanium White (009), the System 3 Screen Printing Set also contains System 3 Textile Printing Medium (260ml), System 3 Screen Printing Medium (130ml), System 3 Screen Drawing Fluid (29.5ml), System 3 Removable Screen Block (130ml), plastic mixing spatula and  brush.

Video: A 'How To' Guide for Screen Printing by Daler-Rowney
What is Acrylic paint?
Fast-drying and water based, Acrylic paint is comprised of a pigment suspended in an acrylic co-polymer binder. This is then applied to a support such as a canvas. The pigment fixes to the support upon evaporation of the water, producing a slight colour change in the process. Acrylic paint dries to a water-resistant, flexible finish, making it the ideal medium for a number of craft purposes including screen printing and model making.
Who are Daler-Rowney?
Established in 1783, by Richard and Thomas Rowney, Daler-Rowney has been manufacturing the finest art materials for over 230 years.
In 1963, Rowney became the first manufacturer in Europe to introduce artists' acrylic colour.  Widely used by artists, including well-known proponents Peter Blake and Bridget Riley, throughout the 1960s and 1970s, Rowney's "Cryla" heralded a new era in art practice, which became known as 'Pop Art'.
In 1983, the Daler Board Company purchased the George Rowney Company, forming Daler-Rowney Limited, as the company is known today.  Daler-Rowney now operates from three manufacturing bases, two in the UK and one in the Dominican Republic, where their artists' brushes are made.
Kate P.
18/01/2023

5
/5
Seems to be a good deal. I will not use immediately so cannot really rate it.
Anonymous A.
13/06/2019

5
/5
Looked great
Anonymous A.
04/03/2019

4
/5
Not tried yet. Video became corrupted in the middle. Products all satisfactory otherwise .
Anonymous A.
26/11/2018

5
/5
Wife was very pleased and excited to try out the printing set.
Anonymous A.
17/02/2018

5
/5
Haven't used it yet and was surprised to see so much inside the box.
Anonymous A.
01/02/2018

4
/5
Great startup
Anonymous A.
14/05/2017

4
/5
seems good product, birthday gift so not used yet. high hopes for this