Sale!
You save 20%
You save 20%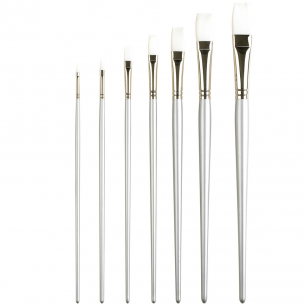 Available in a range of sizes
Sold Individually
Ideal for acrylic & oil colours
"Oval-Shaped" Filbert brush tip
Synthetic white filaments
Precise, silky smooth application
Hardwearing, easily retains shape
Silver lacquered handle
Long Flat tips feature an extended length of bristle, making them able to carry more paint & allowing for a wider range of flexibility for more stylised or flourished strokes.
With high-quality synthetic bristles & long handles, the ground-breaking Series 201 "Sterling Acrylix" range from Pro Arte offers silky smooth precision, flexibility & longevity.
Originally developed with acrylic colours in mind (as the name may suggest), they've since been adopted by oil painters as an alternative to natural hog hair, due to their ability to easily retain their shape, even after extensive use with heavier mediums.
Anonymous A.
28/04/2022

5
/5
Excelent
Anonymous A.
21/02/2022

5
/5
excellent products
Anonymous A.
19/04/2021

5
/5
Standard flat brush, I'm happy with it.
Anonymous A.
01/02/2019

5
/5
I love these brushes
Anonymous A.
06/07/2018

5
/5
A really excellent product