Sale!
You save 20%
You save 20%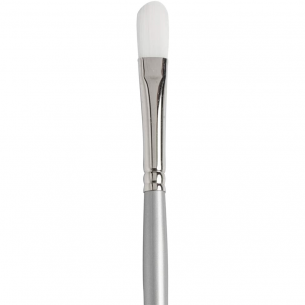 Available in a range of sizes
Sold Individually
Ideal for acrylic & oil colours
"Oval-Shaped" Filbert brush tip
Synthetic white filaments
Precise, silky smooth application
Hardwearing, easily retains shape
Silver lacquered handle
Filberts may be aesthetically similar to a "Flat" at first glance, but their "oval-shaped" tip makes them one of the most unique forms of brush available.
Simply by altering the angle & pressure when in use, they're able to produce an impressive variety of strokes, from exceptionally fine lines for detailed work, all the way to broad marks or washes for largescale pieces.
With high-quality synthetic bristles & long handles, the ground-breaking Series 201 "Sterling Acrylix" range from Pro Arte offers silky smooth precision, flexibility & longevity.
Originally developed with acrylic colours in mind (as the name may suggest), they've since been adopted by oil painters as an alternative to natural hog hair, due to their ability to easily retain their shape, even after extensive use with heavier mediums.
Anonymous A.
11/11/2021

5
/5
Great quality brushes.
Anonymous A.
19/04/2021

5
/5
Good for details
Anonymous A.
14/07/2020

4
/5
Nice product that met my expectations and requirements.
Anonymous A.
20/09/2019

5
/5
Good
Anonymous A.
13/01/2018

5
/5
excellent quality - will now buy more, different sizes
Anonymous A.
05/12/2017

5
/5
Seems fine so far.
Anonymous A.
10/03/2017

5
/5
I use them for oils. I like the brightness/springiness of the bristle.