Sale!
You save 20%
You save 20%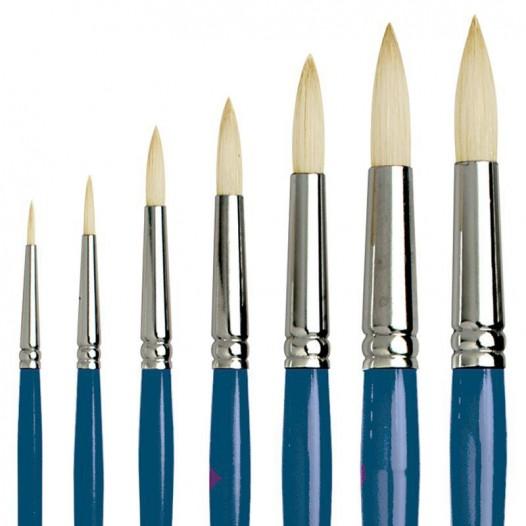 Series C Studio Round Hog Brushes with precision rounded ends
Long, hog bristles
Seamless nickel ferrules
Medium size blue, lacquered handles
Modestly priced
The right choice of paintbrush is essential for artists wanting to create the finest results in their artwork. An artist's paintbrush is comprised of four parts: bristles, ferrule, crimp and handle. The bristles are the hair on the brush, and may be natural, synthetic or a combination of the two.

The ferrule is the metal joining the bristles to the handle, and the crimp is the part of the ferrule where it is secured to the handle. The handle is the area of the paintbrush the artist holds, and is usually made of wood or acrylic. The size and shape of the bristles determine the effect and style each type of paintbrush can achieve. A wide, flat brush is designed for painting large areas, whereas a small, tapered brush is ideal for fine, detailed work.
What is a round brush?
A round brush has a circular ferrule, the shape of which may be viewed by looking straight down the brush. A round brush usually has long bristles, which come to a pointed tip.
When should a round brush be used?
A round brush is ideal for filling in small areas, controlled washes and detailed work. Using a round brush, the artist is able to create lines of varying thicknesses, depending on the amount of pressure exerted.  This is due to the brush's thin tip becoming wider the more the brush is pressed down.
Which are best, hog or synthetic brushes?
Hog and synthetic brushes have different qualities which should be taken into account, alongside the desired effect the artist wishes to create. Hog bristles have long been used in the manufacture of paintbrushes, as they are extremely resilient and flexible. Each individual bristle has a broad, sturdy base and a tapered tip, which splits into several fine filaments, giving an excellent capacity for holding paint. The stiffness of hog bristles provides good flow and texture, ease of blending, and ensures even application.
Synthetic brushes are particularly suitable for paint that has been diluted, with either water or solvent, as the hairs remain strong and durable. Synthetic hairs give a much softer, less textured effect, enabling the artist to create fine detail if required.
Why use a Pro Arte Series C Studio Hog brush?
A modestly priced range, Pro Arte Series C Studio Hog brushes are particularly suitable for student painters. Available in three distinct shapes: Round, Flat and Filbert, and in sizes: 0-2-4-6-8-10-12. Pro Arte Series C also features a Hog Fan brush, available in sizes Small, Medium and Large.
What do the size numbers mean?
The size of a brush is indicated by a number printed on the handle, and refers to the width of the ferrule. A higher number means a wider brush. It should be noted that consistency between brush manufacturers, when calculating brush size, can vary. Therefore, a size 10 brush in one brand may not be the same as a size 10 in another brand. In some instances, there may also be size variations between a manufacturer's different ranges.
How should I care for my Pro Arte Series C Studio Hog brush?
It is important to clean brushes thoroughly to prevent bristles losing their interlocking quality, and standing apart. Particular attention should be paid to the edge of the ferrule, where dried paint can become embedded, and result in bristle breakage.
The methods for cleaning brushes differ, depending on the type of paint used. The following videos show how to clean brushes according to the paint used:
Cleaning Acrylic Paint Brushes
*Pro Arte advise using white spirit or turpentine to clean oil paint brushes not thinners, as used in this video.
To help preserve the condition of the bristles, a specialist brush cleaner may also be used.
When storing hog brushes for any length of time, care should be taken to ensure they are clean and absolutely dry, to prevent mildew developing. Keeping hog brushes in a box, with a tight-fitting lid, guards against both mildew and moth damage.
What are the best paints to use with a Pro Arte Series C Studio Hog Round Brush?
Round hog brushes are mostly used with oil and acrylic paints. They may also be used with thick glues, when crafting. Hog bristles do not absorb water, making them unsuitable for use with water colour paint or ink.
What strokes are produced with round brushes?
Click here to see how round brush strokes compare with other brush types.
Who are Pro Arte?
Pro Arte was founded in 1973 by Ron Thompson, an artist with aspirations to make and sell the best brushes in the world. During the mid-Eighties, the company investigated the possibility of a synthetic alternative to sable hair. This developed into the implementation of polyester filaments, and the eventual production of their groundbreaking Prolene range of brushes.
Further developments led to the creation of Pro Arte's Connoisseur collection, brushes with a mix of synthetic and sable hair, and their Acrylix range. Originally designed for artists working with acrylics, who required high precision detail, good spring and excellent pointing adaptability, Acrylix is also an ideal choice when working with oil paint.
Pro Arte's extensive selection of artist's brushes is completed by Renaissance Sable.  Perfectly suited to the purist, this high quality, pure sable brush pays fitting homage to its artistic heritage.
Based in Yorkshire, the company manufactures using machinery where advantageous, but many final processes are hand finished, to sustain the quality and consistency synonymous with the brand. With son Peter having joined Ron Thompson in his quest for excellence, Pro Arte continues to set the standard for artist's paint brushes.
Thomas H.
20/08/2023

5
/5
Good quality brush at a great price. Exactly what I needed for oil painting.
Jennie H.
25/03/2023

5
/5
Perfect.
June W.
27/12/2022

5
/5
good quality brush, as described
Anonymous A.
30/06/2021

3
/5
Not the best but does the job for the price.
Anonymous A.
06/05/2021

5
/5
Great quality products.
Anonymous A.
15/03/2021

4
/5
Not quite as good as they used to be.
Anonymous A.
07/12/2020

4
/5
As expected nothing particularly noteworthy
Anonymous A.
21/09/2020

4
/5
Good
Anonymous A.
05/05/2019

4
/5
Good brush
Anonymous A.
03/04/2019

5
/5
Very good.
Anonymous A.
06/06/2018

5
/5
great bargains and sales.
Anonymous A.
26/02/2018

5
/5
I bought these round brushes in a Cowling and Wilcox sale and they were extremely good value for money , they were about half the price for similar brushes in my local art shop .
Anonymous A.
28/07/2017

5
/5
as described