Sale!
You save 20%
You save 20%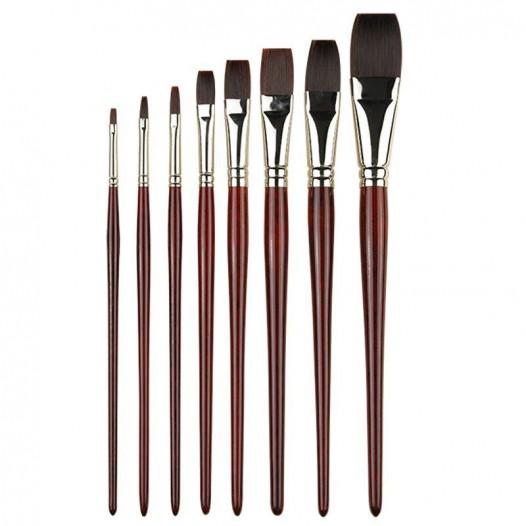 Synthetic alternative to traditional hog hair brushes
Great for acrylic and oil painting
Firm and flexible with a silky working texture
Long-lasting and durable
Excellent value
The Acrylix brush range is designed as a synthetic alternative to traditional hog hair brushes for acrylic and oil painting. This breakthrough range goes way beyond traditional standards to offer exciting new properties of its own. Acrylix brushes are both firm and flexible with a silky working texture, which is maintained and upheld after many uses.

Prolonged standing in water has virtually no effect on these brushes, which is essential when using fast drying acrylic colours. The durable pearly filament also helps you to see and judge the colour on the brush.
Fiona S.
05/10/2022

4
/5
Have only used it once as yet, but seems to have good spring and hold the paint well.
Anonymous A.
20/01/2022

5
/5
lovely brush
Anonymous A.
27/10/2021

5
/5
Great brushes
Anonymous A.
06/08/2021

5
/5
A perfect brush that last well, I will be ordering more
Susan B.
22/03/2021

4
/5
Excellent, long-lasting brushes which I use for oil painting-(the small-sized ones). Very easily cleaned after use too. I did have to look on the ProArte site though to check what size brushes I needed as the numbers had worn off of my old ones and there was no way of finding out visually the actual size of any brush and I wasn't sure about the numbers. Also, after ordering the size I wanted, I realised when I received the brushes that the actual brush I had before had been a filbert, but as it was a small size it looked more like a one stroke! However, luckily the one stroke has proved to be fantastic too.
Anonymous A.
16/11/2020

5
/5
Nice quality product.
Anonymous A.
11/07/2019

5
/5
Ookkay
Anonymous A.
20/02/2019

4
/5
Good
Anonymous A.
19/08/2018

4
/5
Good brushes for student quality
Anonymous A.
29/08/2017

5
/5
Good value for money.
Anonymous A.
12/04/2017

5
/5
Durable and sensitive
Anonymous A.
31/01/2017

5
/5
I really like the acrylix range, I've had some for many years ( couldn't find them for this project). Quality is excellent.