Sale!
You save 38%
You save £12.51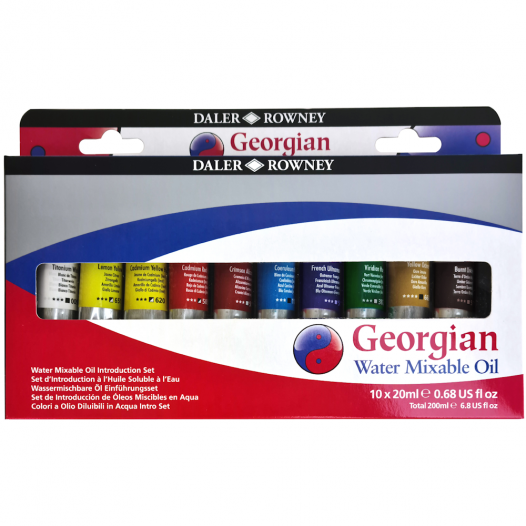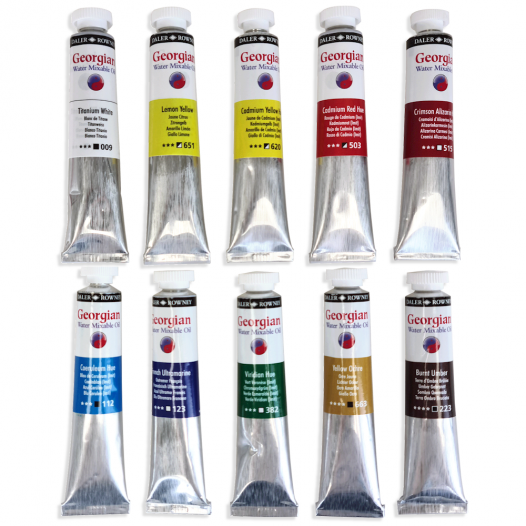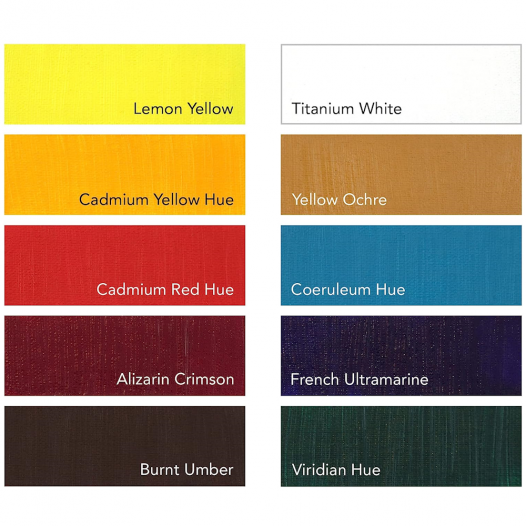 Contents: 10 x 20ml tubes
Colour(s): Assorted*
An ideal introduction to oil painting
Thin, mix & wash using only water
Experience oil painting without solvents
Highly-pigmented, intermixable colours
Colours feature excellent lightfastness
Smooth "buttery" consistency
*please refer to "Contents" tab below
An ideal alternative to traditional oil paint, the Georgian Water-Mixable Oil Colour range (occasionally referred to as "water-mixable oil colour") from Daler-Rowney offers anyone the opportunity to experience oil painting without the need for solvent-based, potentially toxic mediums.
Able to be thinned, mixed & washed using only water, they're great for younger artists, both at home & in a classroom environment, professional artists who work in smaller, more confined spaces or even those who suffer from allergies to the more potent solvent-based mediums used throughout oil painting.
For additional versatility, they can even be mixed with standard traditional oils for a broad range of effects & techniques (however, the more conventional oils or mediums used, the less water-mixable the end result will be).
Each colour is highly-pigmented for increased opacity & lightfastness, whilst the viscosity & smooth texture is comparable to traditional oils, allowing for impasto techniques.  Surface dry between 2-7 days (dependent on environmental factors, of course), with no colour shift during the drying process.
Video Playlist: Daler-Rowney Water-Mixable Oil Colours With Stephanie Kane
Elaine G.
31/08/2023

5
/5
Excellent quality from a well known brand. Very happy with my purchase and price I paid.
Rosie L.
04/06/2023

5
/5
The products are very good quality and are excellent to work with
Janice P.
01/05/2023

5
/5
Great quality and value
Sonia C.
09/07/2022

5
/5
Wow, brilliant paints and no need for solvents! Win win.
Anonymous A.
21/04/2022

4
/5
New to oils so just giving it ago. Good starter set
Anonymous A.
13/04/2022

5
/5
Bought for a friend but I'm sure they will love them.
Anonymous A.
12/01/2021

5
/5
great
Anonymous A.
07/12/2020

5
/5
This will be a gift but it appears just right and good value
Anonymous A.
07/12/2020

3
/5
Haven't used the paints yet but they look fine
Anonymous A.
20/11/2020

4
/5
I am pleased with the irmw, it is as said on the site, have not used it before but it came recommended by an artist
Anonymous A.
18/12/2018

5
/5
Great product will buy more in the future.
Anonymous A.
31/12/2016

5
/5
Excellent