Sale!
You save 12%
You save 15%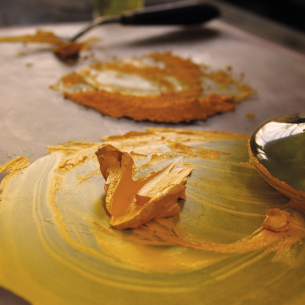 Pick Colours
Available in 48 colours of exceptional quality
Made by hand using centuries-old techniques
High pigment concentration
Vibrant, durable colours
Texture and performance unlike any other oil paint
225ml tubes
Video: Jeremy Lipking Discusses Michael Harding Oil Paints

Made by hand, using techniques dating back to the days of the Old Masters, Michael Harding Artists' Oil Colours offer vibrant, durable colour with a texture and performance unlike any other oil paint. Making no compromise on quality, these paints contain no filler to extend their volume. As Michael points out, "Why make something exceptional and then dilute it?"
Why choose Michael Harding Artists' Oil Colour?
Available in 40ml and 225ml tubes, Michael Harding Artists' Oil Colour contains high levels of pigment, ensuring strong, rich colour and resistance to fading.
What is Oil Colour?
Oil colour is produced by the combination of a pigment with a natural oil binder, such as linseed, walnut and poppy oils. This is then applied to a support such as canvas. The pigment fixes to the support upon dehydration and oxidation of the oil, forming a hard film on the surface.
Oil colours are oil-based, so any brush used to apply the oil colour paint should be thoroughly cleaned after use with either a solvent or brush cleaner.
The following videos show different ways of cleaning oil colour paint brushes:
Removing Oil Colour Using A Solvent
Removing Oil Colour Using "The Masters" Brush Cleaner And Preserver
Why use Oil Colour?
Oil colour dries slowly, offering artists flexibility and time to make modifications. The slow drying properties of oil colour means they are excellent for creating subtle blends, affording the artist smooth transitions in their painting.
How long does Oil Colour take to dry?
Oil colour tends to become touch dry in 2-12 days. However, every pigment reacts differently when mixed with oil, resulting in varying drying times. It is important to know the drying times of the oil colours used, so that slower-drying oil colour is painted over faster-drying layers, in order to avoid cracking.
How does Oil Colour compare to Acrylic paint?
The main difference between Oil Colour and Acrylic paint is their drying times; Oil Colour dries very slowly, allowing the artist a longer working time, whereas Acrylic dries incredibly quickly. Much depends on how the artist prefers to work, and the effects they wish to create. The following link provides a more detailed comparison of the two media.
Guide To The Key Differences Between Oil Colour And Acrylic Paint
Which surfaces best support Oil Colour?
An important factor for the artist to consider when Choosing A Surface For Oil Painting is where they will be painting. Cotton or Linen canvas is ideal for studio work, whereas a Canvas Board or Canvas Pad may be more suitable when working outdoors.
Which brushes are best for Oil Colour painting?
Oil Colour painting requires the brush to have stiff bristles, with enough resilience to control and manipulate the colour. Providing good flow and texture, the stiffness of Hog Brush bristles makes them particularly well suited to oil painting.
Advancements in the production of synthetic hair have resulted in a rise in popularity of synthetic brushes, especially if price and durability are an issue. Originally designed for working with Acrylic paint, many artists have found Pro Arte's Acrylix range of synthetic brushes ideal for painting with oil colour.
Oil colour painting can often entail working at a distance from the paint surface. In these circumstances, a long handled brush offers the perfect solution.
Palette Knives are another tool invaluable to the artist working with oil colour, and choosing a softer bristle brush from our range of Oil Paint Brushes is a further option, when working with thinned oil colour.
Which techniques work best with Oil Colour?
The following links show some useful techniques when working with oil colour:
Oil Painting Technique Using Winsor & Newton Liquin Medium
Who is Michael Harding?
An artist and a painter, Michael Harding began making oil colours in 1982, whilst studying Fine Art. Inspired by Rembrandt's paintings in the National Gallery, Harding had attempted to recreate the Dutch artist's paint effects and colours in his own work. Realising that no existing oil colours would enable him to do this, he set out on a mission to produce an oil paint that was of the same quality and consistency as that used by the Old Masters.
Intensive research and experimentation resulted in the eventual production of Michael Harding's Artists Oil Colour, which he went on to supply to the Royal College of Art and the Victoria & Albert Museum. Today, Michael Harding counts a number of renowned artists amongst the fans of his oil colour, including David Hockney, John D. Edwards and Howard Hodgkin.
Anonymous A.
17/02/2022

4
/5
Always good paints
Anonymous A.
18/05/2021

5
/5
Correct
Anonymous A.
03/03/2020

5
/5
These paints are top quality
Anonymous A.
30/01/2019

5
/5
Great pigment
Anonymous A.
13/07/2018

5
/5
Very good
Anonymous A.
31/05/2018

5
/5
Densely pigmented
Anonymous A.
24/02/2018

5
/5
Good product at a good price.
Anonymous A.
12/01/2018

4
/5
Excellent
Anonymous A.
15/03/2017

5
/5
Excellent paint.
Anonymous A.
10/03/2017

5
/5
Really nice to work with.