Sale!
You save 40%
You save 40%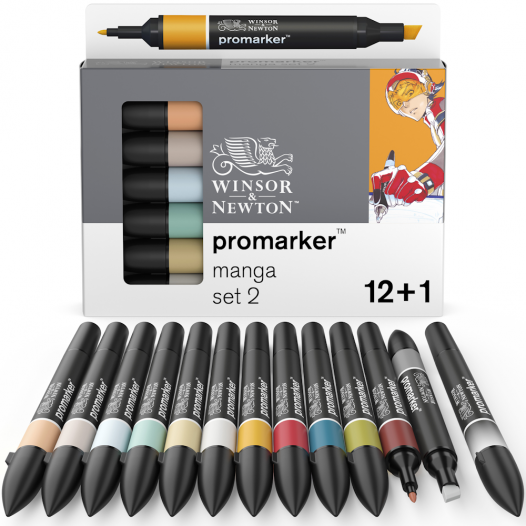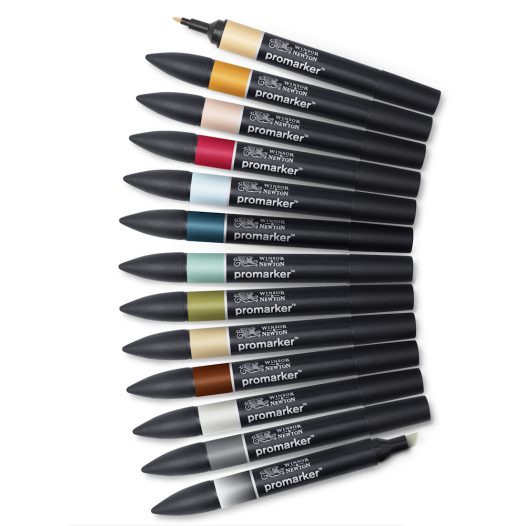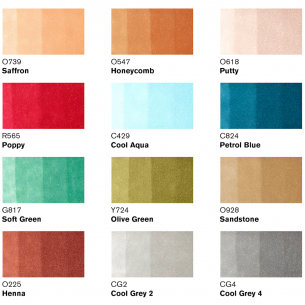 Contents: 13 markers
Colours: 12 x assorted
Plus: 1 x colourless blender
For more, please refer to Contents tab below
Twin-tipped professional illustration markers
Each marker features a fine bullet & broad chisel nib
Alcohol-based ink is quick-drying & translucent
Dye-based colours apply evenly with no streaks
Achieve depth & opacity easily via layering or blending
Popular amongst students, artists, designers, illustrators & more!
Also available individually, click here for more!
The Manga Set Two from Winsor & Newton includes 12 Promarkers in a variety of colours & tones, along with an additional Colourless Blender for effortless layering, blending & shading.
Chosen specifically for their versatility in Manga illustration, each colour has been handpicked from across their impressive 180+ colour range & includes lighter tones such as Cool Aqua, more natural colours like Putty & a deep, rich shade of Petrol Blue.
Promarkers
These professional-quality markers are a highly trusted household name in the creative world for good reason.
Available across the world & often found in the collections of artists, architects, students, illustrators, cartoonists, professionals & hobbyists, the Promarker range from Winsor & Newton is available in several variations including Brush, Neon or Watercolour, making it easier than ever to create flawless, print-like results.
Dual-tipped, each Promarker features both a fine, pointed bullet nib for details & precision, along with an additional broad chisel nib for efficient largescale colouring & thick, bold, lively strokes.
Quick-drying & translucent, their alcohol-based ink can be both blended or layered easily, achieving shading effects, producing new hues of colour & developing depth & opacity in your work.  The dye-based colours ensure outstanding vibrancy, consistency & tonal variation for a clean application with no unsightly streaking.
Please be aware that, in an effort to reduce their impact on the environment, Winsor & Newton are currently in the process of replacing their packaging with plastic free alternatives and as such, may vary from the image provided.
Teresa P.
03/05/2022

5
/5
brilliant product
Anonymous A.
01/07/2021

5
/5
Very good quality and reasonable price.
Anonymous A.
28/01/2021

5
/5
Good mix of colours, has 2 shades of grey and a blender as well.
Anonymous A.
09/12/2020

5
/5
A good colour range
Anonymous A.
18/07/2019

5
/5
Promarkers have always been a favourite in the trade since the inception of the Pantone System, I just hopeit continues.
Anonymous A.
30/05/2019

5
/5
Always use these pens for my drawings.
Anonymous A.
20/02/2019

4
/5
Good pens
Anonymous A.
18/02/2019

5
/5
They work just as expected, no damage, I love them !
Anonymous A.
09/01/2019

5
/5
Excellent and as described. Beautiful colours.
Anonymous A.
29/09/2018

5
/5
Great selection of colours, really useful. Can last a good long time with reasonable use.
Anonymous A.
08/09/2018

5
/5
good product
Anonymous A.
13/01/2018

5
/5
Good range of colours that I needed to fit in with the ones I already have.
Anonymous A.
06/01/2018

4
/5
good coverage markers
Anonymous A.
30/12/2017

5
/5
Brilliant promarker pens Colouring & blending really good just what I wanted.
Anonymous A.
09/11/2017

5
/5
Great markers, will order again.
Anonymous A.
29/04/2017

4
/5
Still to use
Anonymous A.
17/03/2017

5
/5
ordered in conjunction with your other 'sister' set...so very happy, thanks
Anonymous A.
14/03/2017

5
/5
Unnecessary to comment further, the customer decides how much to comment, not you