Sale!
You save 45%
You save 45%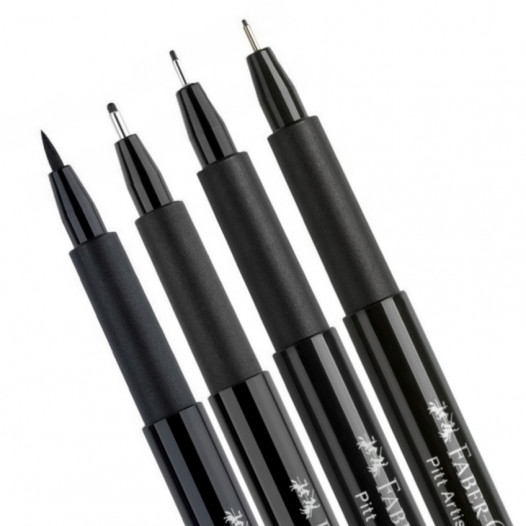 Colour: Black
Sizes: Assorted*
Nibs: Assorted*
Pigmented Indian Ink
Lightfast & permanent
Acid-free & pH neutral
Doesn't bleed through paper
Odour-free & water-resistant once dry
*please refer to Contents tab below
The high-quality Pitt Artist pen range from Faber-Castell is highly regarded amongst creatives in all fields for sketching, ink drawings, architecture, fashion & more!  This wallet contains a selection of four Pitt Artist pens in a range of sizes & nibs (please see Contents below for further details).
Easy-to-use, each pen is filled with a richly pigmented deep black Indian ink that's highly lightfast & waterproof once dry (on absorbent surfaces), along with being odourless, acid-free & pH neutral for a reliable, user-friendly experience no matter the situation.
Video: Compressing Colours With Faber-Castell PITT Artist Pens
Brian C.
30/12/2022

5
/5
Great product.+++++++++++++++++
Anonymous A.
05/02/2022

4
/5
Good range of pens but the ends are easily damaged with drawing so not as good as I thought they would be and won't last long.
Anonymous A.
28/09/2021

5
/5
Excellent
Anonymous A.
21/02/2021

5
/5
EXCELLENT
Anonymous A.
19/03/2019

5
/5
Just what I needed
Anonymous A.
15/06/2018

5
/5
Not tried them yet but they have a great reputation!
Anonymous A.
06/06/2018

5
/5
Nice pack,small pitt pens are difficult to find,excellent price and quick delivery
Anonymous A.
31/05/2018

5
/5
These are the best pens I've ever used ; the ink flows beautifully and the range of nibs is just right for illustration
Anonymous A.
01/05/2018

5
/5
Received with excitement and on time. Thank you.
Anonymous A.
08/03/2017

5
/5
Excellant
Anonymous A.
24/02/2017

4
/5
I haven't opened the pack
Anonymous A.
31/10/2016

5
/5
Various sizes for all needs, very happy with this product.