Sale!
You save 40%
You save 40%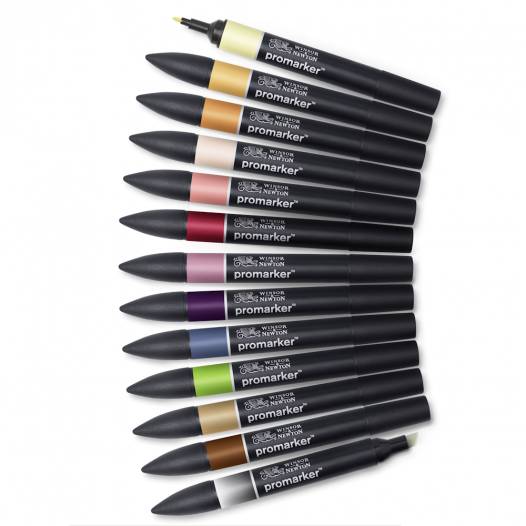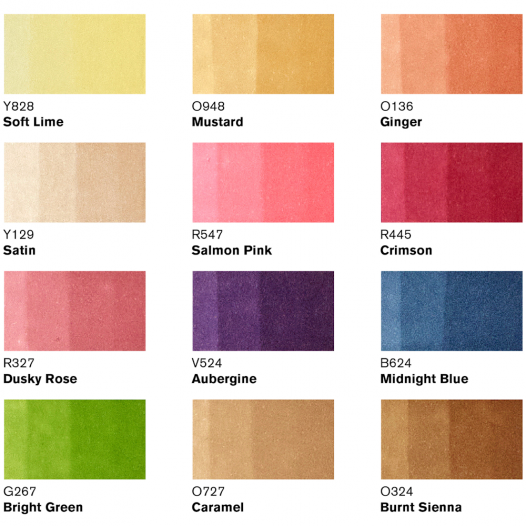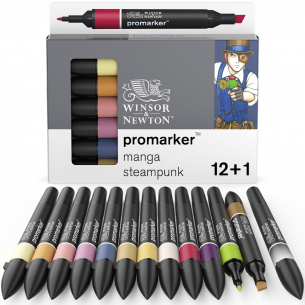 Contents: 13 markers
Colours: 12 x assorted
Plus: 1 x colourless blender
For more, please refer to Contents tab below
Twin-tipped professional illustration markers
Each marker features a fine bullet & broad chisel nib
Alcohol-based ink is quick-drying & translucent
Dye-based colours apply evenly with no streaks
Achieve depth & opacity easily via layering or blending
Popular amongst students, artists, designers, illustrators & more!
Also available individually, click here for more!
This Manga Steampunk Set from Winsor & Newton includes 12 Promarkers in a variety of colours & tones, along with an additional Colourless Blender for effortless layering, blending & shading.
Chosen specifically for their versatility in Manga illustration, each colour has been handpicked from across their impressive 180+ colour range & includes lighter tones such as Salmon Pink, more natural colours like Mustard & a deep, rich shade of Aubergine.
Promarkers
These professional-quality markers are a highly trusted household name in the creative world for good reason.
Available across the world & often found in the collections of artists, architects, students, illustrators, cartoonists, professionals & hobbyists, the Promarker range from Winsor & Newton is available in several variations including Brush, Neon or Watercolour, making it easier than ever to create flawless, print-like results.
Dual-tipped, each Promarker features both a fine, pointed bullet nib for details & precision, along with an additional broad chisel nib for efficient largescale colouring & thick, bold, lively strokes.
Quick-drying & translucent, their alcohol-based ink can be both blended or layered easily, achieving shading effects, producing new hues of colour & developing depth & opacity in your work.  The dye-based colours ensure outstanding vibrancy, consistency & tonal variation for a clean application with no unsightly streaking.
Please be aware that, in an effort to reduce their impact on the environment, Winsor & Newton are currently in the process of replacing their packaging with plastic free alternatives and as such, may vary from the image provided.
Anonymous A.
30/05/2019

5
/5
Always use these pens for my drawings
Anonymous A.
15/05/2019

5
/5
my daughter love it
Anonymous A.
17/04/2019

5
/5
As usual lovely
Anonymous A.
23/01/2019

5
/5
Actually hit a steam punk related picture in mind so very useful
Anonymous A.
09/01/2019

5
/5
As described, beautiful colours.
Anonymous A.
07/12/2018

5
/5
Very happy with service and products
Anonymous A.
29/09/2018

5
/5
Great selection of colours, really useful. Can last a good long time with reasonable use.
Anonymous A.
08/09/2018

5
/5
good product
Anonymous A.
01/05/2018

5
/5
I love these makers, no crafter should be with them.
Anonymous A.
03/04/2018

5
/5
I'm very pleased with the colours in this pack and there are no overlaps with other sets which I have purchased. These will provide a better variety in my Steampunk art and work well when combined with other mediums.
Anonymous A.
09/02/2018

5
/5
A good Winsor and Newton set of pens I hadn't seen in other shops.
Anonymous A.
23/01/2018

5
/5
Amazing pens for my adult colouring.
Anonymous A.
13/01/2018

5
/5
Have used Promarkers for several years and wouldn't change to another product, they are always reliable.
Anonymous A.
08/01/2018

4
/5
Great pens. Just a shame there's so much wasteful plastic packaging. Could be just as easily packaged in recyclable cardboard packaging.
Anonymous A.
05/01/2018

5
/5
Great.
Anonymous A.
30/12/2017

5
/5
I have been after this set for a while but couldn't find it cheap enough. Good sale price!
Anonymous A.
08/06/2017

5
/5
excellent