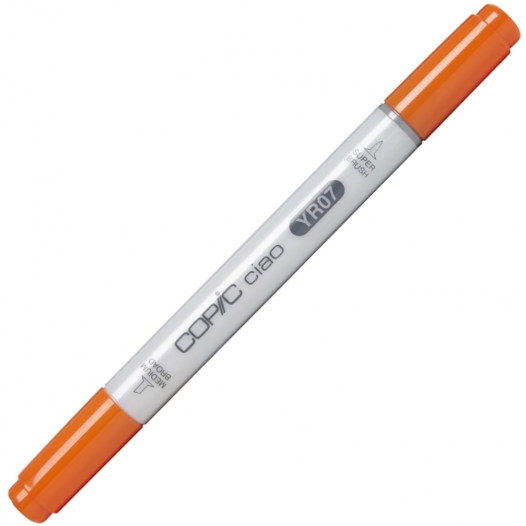 Pick Colours
Nib 1: Super Brush
Nib 2: Super Broad (chisel)
Colours: 60
sold individually
Dual-tipped illustration markers
Available in a range of individual colours
Quick-drying, non-toxic, alcohol-based ink
Colours can be layered & are fully intermixable
From Copic, the Ciao Markers are an ideal, cost-effective graphics marker range, with over 50+ individual colours, along with a variety of themed sets, specially compiled to provide for the artists' needs.
Each marker is dual-tipped, with a Super Broad tip for largescale applications such as colouring & shading, along with a flexible Super Brush tip for bold, fluid & lively strokes.
Their quick-drying alcohol-based ink can be blended or layered easily for seamless shading & gradient effects, whilst the dye-based colours ensure outstanding vibrancy, consistency & tonal variation.
We recommend using a dedicated marker pad with this range, such as our very own YUPO pads.
Available in 2 sizes, these gummed pads include a specially developed, hardwearing synthetic paper ideal for dealing with even the most robust applications including alcohol, pigment & water-based inks!
Anonymous A.
21/12/2020

5
/5
Happy with the product. The first markers I have purchased. Will buy more over time but will need to space the purchases out due the cost. Not cheap - but good.
Anonymous A.
15/12/2020

5
/5
These are a gift, but having researched I believe they are one of the best in the market
Anonymous A.
11/09/2020

5
/5
recommend
Anonymous A.
11/02/2020

5
/5
I Love these pens - have tried several designs and makes but these excel - carry on selling Cowling and Wilcox Thanks
Anonymous A.
23/01/2020

5
/5
What can I say about Copic Ciao markers. I am not an artist but these pens make me look and feel like one. They are so easy to use. Best on the market in my opinion.
Anonymous A.
25/04/2019

5
/5
Awesome
Anonymous A.
12/03/2019

5
/5
Great
Anonymous A.
21/02/2019

5
/5
The markers are amazing. My daughter loves them.
Anonymous A.
09/01/2019

5
/5
Bought for my manga enthusiastic daughter, she absolutely loves these makers. Brilliant blending and a fantastic colour range.
Anonymous A.
09/01/2019

5
/5
Ny favourite pens, beautiful colours, huge range
Anonymous A.
08/01/2019

5
/5
Copics are always my go to marker, the blend beautifully and are ny favourite medium to use
Anonymous A.
27/10/2018

5
/5
Love the markers.
Anonymous A.
01/06/2018

5
/5
Nice markers with good colouration
Anonymous A.
14/03/2018

5
/5
Excellent markers, good coverage, vibrant colours
Anonymous A.
17/02/2018

5
/5
There so good but too expensive for what they are like
Anonymous A.
30/10/2017

5
/5
Love these, and use them a lot