Sale!
You save 42%
You save £29.26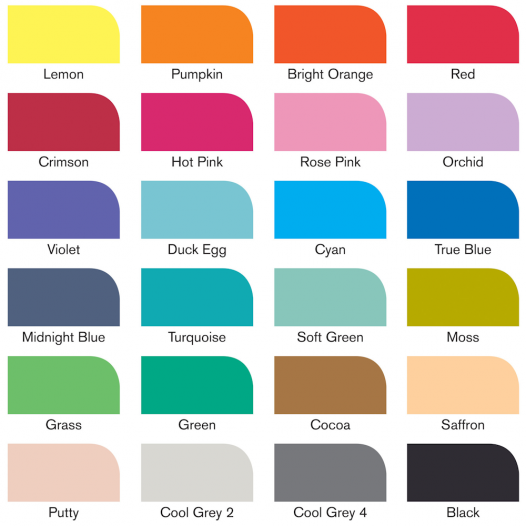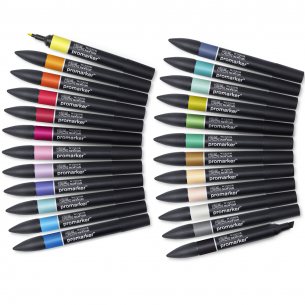 Set of 24 popular shades in a handy storage wallet
Alcohol-based professional markers
Unrivalled performance
Blendable and malleable
Includes Broad Chisel & Fine Bullet nibs
Skilfully versatile and usable on resistant surfaces
Video Series: Winsor & Newton ProMarkers
Expert, versatile and boasting an unrivalled colour spectrum, the Winsor & Newton ProMarker is a must-have, professional quality addition to your marker collection. The 25-piece Arts & Illustration Set is ideal for artists and illustrators of all abilities, boasting essential colours for a range of design courses and applications.
Each ProMarker is twin-tipped, with a broad chisel nib and fine bullet nib. These nibs are of a very high quality to ensure consistent, streak-free coverage. All ProMarkers are blend-friendly and contain malleable, alcohol-based, translucent ink. They are skilfully versatile and can be used on ink-resistant surfaces such as acetate, glass, plastic and wood.
The set includes 24 ProMarkers in the following colours: Lemon, Pumpkin, Bright Orange, Red, Crimson, Hot Pink, Rose Pink, Orchid, Violet, Duck Egg, Cyan, True Blue, Midnight Blue, Turquoise, Soft Green, Moss, Grass, Green, Cocoa, Saffron, Putty, Cool Grey 2, Cool Grey 4 and Black.
ProMarkers are available in a total of 148 colours, from intensely vibrant tones to subtle pastel shades, and are popular with artists and illustrators the world over.

View the complete ProMarker colour chart
Einav M.
02/08/2022

5
/5
Very good
Anonymous A.
17/04/2021

5
/5
Gorgeous set of colours, will probably buy some of the other sets in the range.
Anonymous A.
13/10/2020

5
/5
Lovely range of colours, and a good deal considering they come with their own very handy case to hold each one securely. Not even Hobbycraft sell the case, so I'm happy :)
Anonymous A.
04/06/2020

5
/5
Wonderful colours, good quality starter marker set - just what you need as a first-time (and even more advanced!) illustrator. I use mine to colour in my handbag designs, so lovely for fashion illustration too!
Anonymous A.
15/10/2019

5
/5
Purchased items as s gift which I am sure will be perfect for their art work.