Sale!
You save 40%
You save 40%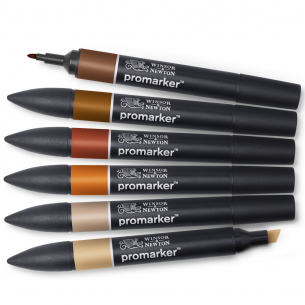 Contents: 6
Colours: Assorted
For more, please refer to Contents tab below
A set of professional illustration markers
Dual-tipped, with both a fine bullet & broad chisel nib
Alcohol-based ink is quick-drying & translucent
Dye-based colours apply & dry evenly with no streaks
Achieve depth & opacity easily via layering or blending
Popular amongst students, artists, designers, illustrators & more!
Also available individually, click here for more!
Ideal for portraiture, illustration, cartoons & design work, the Skin Tone Set Two from Winsor & Newton includes a handpicked selection of smooth, rich examples from the "deeper" end of the spectrum such as Deep Mocha, Cinnamon or Cedar Brown.
In order to effectively represent the global community & provide the most encompassing, inclusive colour palette possible, there are in fact several Skin Tone Sets available:
Skin Tone Set One (6pc)
Also including 6 Promarkers, this "companion set" features lighter, more subtle tones like Ivory & Soft Peach.
Skin Tones Set (13pc)
This collection features 12 Promarkers (with an additional Colourless Blender), effectively bringing together Set One & Set Two for a better representation of the possibilities on offer.
Promarkers
These professional-quality markers are a highly trusted household name in the creative world for good reason.
Available across the world & often found in the collections of artists, architects, students, illustrators, cartoonists, professionals & hobbyists, the Promarker range from Winsor & Newton is available in several variations including Brush, Neon or Watercolour, making it easier than ever to create flawless, print-like results.
Dual-tipped, each Promarker features both a fine, pointed bullet nib for details & precision, along with an additional broad chisel nib for efficient largescale colouring & thick, bold, lively strokes.
Quick-drying & translucent, their alcohol-based ink can be both blended or layered easily, achieving shading effects, producing new hues of colour & developing depth & opacity in your work.  The dye-based colours ensure outstanding vibrancy, consistency & tonal variation for a clean application with no unsightly streaking.
Please be aware that, in an effort to reduce their impact on the environment, Winsor & Newton are currently in the process of replacing their packaging with plastic free alternatives and as such, may vary from the image provided.
Libby B.
20/02/2023

5
/5
Excellent
Michele W.
15/12/2022

5
/5
Excellent markers
Samantha R.
15/11/2022

5
/5
Love these pens
Anonymous A.
08/12/2021

5
/5
excellent product at a very good price
Anonymous A.
04/09/2021

5
/5
Excellent new Pro Markers just what I needed for my latest project. I find that the markers are really good for the work that I do. I just keep adding to my set when on special offer.
Anonymous A.
12/01/2021

5
/5
Perfect for portraits!
Anonymous A.
12/01/2021

5
/5
Nice colours and useful for many products.
Anonymous A.
22/09/2020

5
/5
Excellent in all respects
Anonymous A.
05/08/2020

4
/5
First class
Anonymous A.
07/03/2020

5
/5
Always been an avid fan of the 'Pantone' system as a whole and the markers are just the first step in that system.
Anonymous A.
03/01/2020

5
/5
AAA+++
Anonymous A.
17/10/2019

5
/5
For me I found them quite expensive, but I am not a professional artist, just wanted to try them. Lovely range of colours, but it would be nice to have skin tones in the set, had to buy another set so I had some.
Anonymous A.
01/06/2019

5
/5
promarkers, great as always
Anonymous A.
08/05/2019

5
/5
Excellent product, excellent quality more that perfect colours more of the brown range than set 1which is what I wanted and excellent value
Anonymous A.
08/05/2019

5
/5
What any artist really needs.
Anonymous A.
04/02/2019

5
/5
Good range of colours
Anonymous A.
07/12/2018

5
/5
Very happy with service and products
Anonymous A.
25/10/2018

5
/5
Good to know that skin tone doesn't mean pink