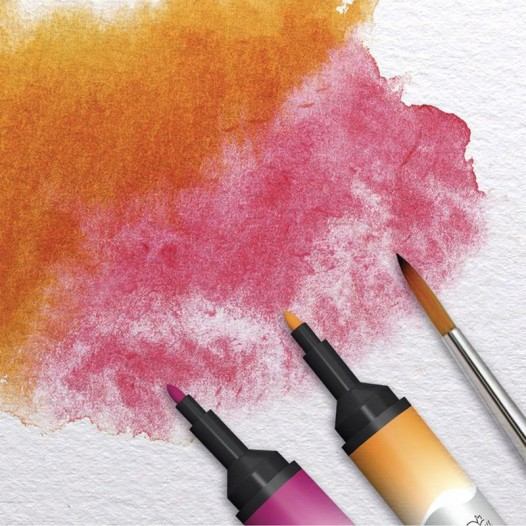 Pick Colours
Nib 1: Fine Bullet
Nib 2: Flexible Brush
Colours: 36
Sold Individually
Professional illustration markers
Water-based, highly pigmented artist-quality ink
Dual-tipped, with both a fine bullet & flexible brush nib
Highly soluble, achieve beautiful watercolour effects easily
Reactivated using water, stop & return to your work any time
Popular amongst students, artists, designers, illustrators & more!
Also available as a Set, click here to view!
A more recent addition to their already impressively varied Promarker range, these professional illustration markers from Winsor & Newton make it easier than ever to achieve beautiful, unique watercolour effects.
Available in 36 individual colours & as a convenient collection highlighting several of the most popular & versatile tones, which can be found here.
Each marker is dual-tipped, with a fine bullet point on one end & a flexible brush on the other, perfect for creating a variety of stunning, sweeping line thicknesses and detailing.
Their versatile water-based ink combines the bold, sharp qualities of a traditional marker with the subtleties & behaviour of watercolour paint, whilst their high concentrations of artist-quality pigments provides incredibly bold colours & actively prevents your work from fading.
If applying dry, it's best to use a dedicated marker pad, such as our very own YUPO pads.
Available in 2 sizes, these gummed pads include a specially developed, hardwearing synthetic paper ideal for dealing with even the most robust applications including alcohol, pigment & water-based inks!
If you'd prefer to work using water, it's best to focus primarily on watercolour paper & pads.
Available in a number of dimensions, weights, finishes & more, to view our entire range, please click here.
Anonymous A.
04/04/2022

4
/5
A bit disappointed especially with the Prussian Blue as it doesn't blend It behaves more like an ink. The other colours are okay. I thought these would have been a good alternative to water colour pans but they're not. Still I've enjoyed using them for limited applications
Anonymous A.
05/02/2022

5
/5
Great colours
Anonymous A.
04/04/2019

5
/5
Great pens.
Anonymous A.
08/03/2019

4
/5
Not used properly yet but think they will be a helpful addition to watercolour supplies.
Anonymous A.
26/01/2018

5
/5
Best thing since sliced bread Love using these watercolour pens
Anonymous A.
23/11/2017

4
/5
Good quality