Sale!
You save 67%
You save £140.00
Out of Stock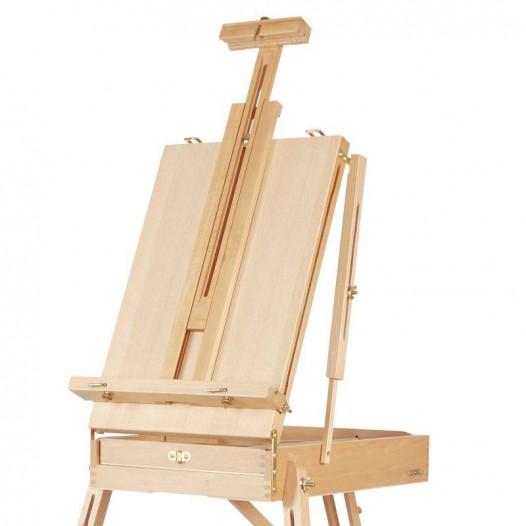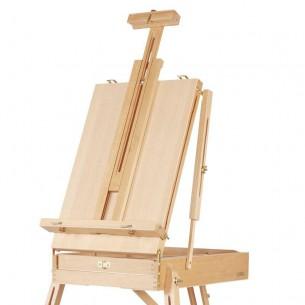 Incredibly versatile "French Style" field easel
Combines an easel, palette & storage box
Features 3 fully adjustable telescopic legs
Includes an additional palette & built-in storage space
Easy to carry with a vegan leather handle & convenient shoulder strap.
Able to hold a canvas, board or pad up to 86cm / 33" in height
Made using FSC certified wood
The Berwick is a classically designed "French Style" easel combining a sketching box, storage case, palette & easel into one simple & portable form, ideal for working the field.
Ideal for any on-location plein air artist or anyone looking to save room in their home or studio.
This stylish, compact easel comes complete with a convenient over-the-shoulder carry strap, vegan leather handle, additional wooden palette & built-in storage drawer, ensuring you have easy access to your materials & tools, no matter where you work.
The three telescopic legs are each individually fully adjustable & end in rubber-tipped points that help to provide a stable, level working surface regardless of height, angle or uneven ground.  When not in use, the legs fold down into specially designated spaces in the "main body" of the easel, clipping securely & remaining in place for ease of transport or storage.
Arriving fully constructed, this easel simply needs to be unfolded & you're ready to work whenever & wherever you want!
Dimensions:  78 x 100 x 145cm  //  30.7 x 39 x 57"
Maximum Extended Height:  183cm  //  72"
Weight (when empty):  6.92kg (approx.)
Michelle H.
30/09/2023

5
/5
Folds away should it be needed, excellent value and a professional piece of art equipment.
Larisa G.
30/09/2023

5
/5
I am very happy that I purchased this field easel. Comfortable in all respects and very beautiful. Increases creative mood.
Jonathan M.
02/03/2023

5
/5
Amazing value, My old Field Easel finally died after many years service. This replacement is very well put together using quality materials at a great price. Many thanks CW
Anonymous A.
10/04/2022

4
/5
Should be 5* but still waiting on a missing wing nut 🔩 and bolt BD
Anonymous A.
20/12/2021

5
/5
The Berwick easel is very well made, I found it easy to use first time and is excellent value for money. I look forward to Plein Air trips next year.
Anonymous A.
11/12/2019

4
/5
This easel appears to be well made and very good value for the price. I am using it and I am very pleased with it as it contains a handy draw for storing tubes of paint and under the draw there is more storage space. It is very adjustable to accommodate various sizes of canvas and the height at which you want to work There are no instructions on erecting the easel and it wasn't immediately obvious how to fold out the legs until I realised that they were held in to the side of the box by press studs and just required pulling away. Although this all folds up into a compact assembly and comes with a carry strap I don,t think I would take it into the field as it is a little fiddly to erect as I feel I need three pairs of hands. Otherwise, very happy with this product.
Anonymous A.
09/12/2019

5
/5
Thank you for sending the parcel to the corrected address.
Anonymous A.
31/08/2019

5
/5
The easel is a well put together piece of kit, I like it very much. The price beat the competition of others similar in design and detail (as far as my research could ascertain) so I am very pleased by my purchase and would recommend the product to anyone seeking something similar.
Anonymous A.
09/05/2019

5
/5
very good at first view... yet to be used in anger :-)
Anonymous A.
07/05/2019

4
/5
Despite the slight damage caused by the delivery driver the goods are fantastic, I was unlucky and imagine the other 99.9% of orders arrive without issue, great company and value!
Anonymous A.
27/02/2019

5
/5
Excellent
Anonymous A.
12/02/2019

5
/5
I like it very much!
Anonymous A.
17/01/2019

4
/5
Bit fiddly but OK.