Sale!
You save 56%
You save £2.24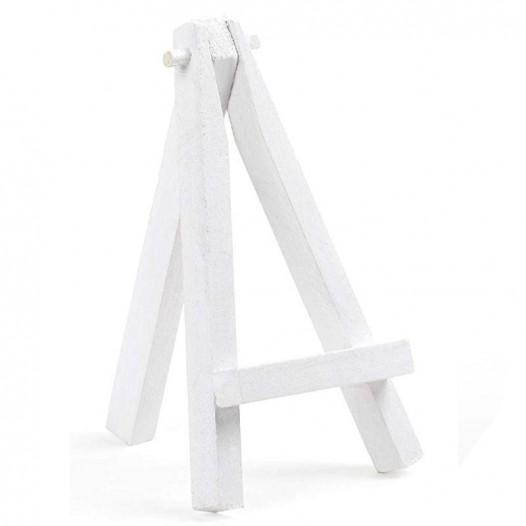 Made from pine
Durable and lightweight
Height: 12cm; Width: 9.5cm
Ideal for creating personalised decorative items
Holds canvases up to 30cm
Neutral white colour
12cm Mini Easel Stand
This 12cm mini easel is an essential for artists that enjoy working in miniature. With a small frame, this great value mini easel can hold canvases measuring up to 30cm and is conveniently crafted for easy transportation between sites. This is the perfect choice for artists creating meticulous detail while on the go, needing an easel that won't break the bank but also looks simple and elegant.
One might think that the size of this mini easel means it is less able to support artwork. Made from sturdy pine, this small easel has an adjustable wooden frame, allowing the artist to alter the degree of the canvas to suit individual requirements. 
Are you looking for a mini canvas to fit into your easel? Take a look at this Daler-Rowney Simply Mini Square White Canvas, measuring just 6.5 x 6.5 cm.
Using a White Wooden Easel Stand
This stunning mini easel is ideal for a wide range of uses. Standing at just 12cm high, the easel is ideal for creating incredible detail in one's artwork. With such a small frame, you can get as close as possible to your canvas, allowing your brush strokes to be as meticulous as possible. 
In such an elegant colour, this mini easel would also be ideal for display purposes. At galleries, choosing to show off canvases with a mini easel like this can be the extra something your artwork needs. Displaying a menu or a guest list using a small white easel adds an extra layer of decor at events like weddings, afternoon teas, or baby showers. Uplift a special day with this easy-to-use and completely portable mini easel from Cowling & Wilcox. 
For a different theme, this mini easel is also available in a range of other colours, including natural pine and black.
About Cowling & Wilcox Easels
Cowling & Wilcox Ltd. began selling art supplies in London in 1960 and has been going strong ever since, offering high-quality art products and materials for nearly 60 years. To this day, we maintain our original concept of providing specialist fine and graphic art materials at exceptional prices, and we're devoted to upholding this mission statement as we expand and evolve into the future.
With our incredible range of artist easels, we're offering you a wide selection to choose from, for use at home in your studio or for on the go. All of our easels are named after streets in and around London's Soho. We stock a variety of easels to ensure the artist's every requirement is met, including portable, table, and studio easels.
Anonymous A.
28/06/2021

5
/5
EASY TO USE AND THEY GIVE A SATISFYING ARTISTRY TO DRAWINGS AND CARDS.
Anonymous A.
24/11/2020

4
/5
do slide open but small, neat and attractive
Anonymous A.
23/11/2020

3
/5
Emphasis on the mini!! Could only really be used as a stand to hold little canvases, but not ideal for painting on as doesn't stay standing when much weight or pressure is applied.
Anonymous A.
23/01/2020

5
/5
Bought in the sale - excellent