Sale!
You save 29%
You save £5.81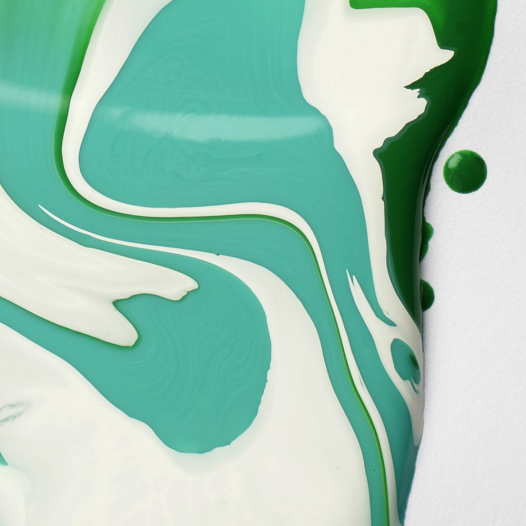 Excellent acrylic medium

Designed to prevent crazing in poured applications

Transparent, gloss finish
237ml bottle
Flip-top lid
Video: Liquitex Pouring Medium
Formulated to enhance the creations of artists working with Liquitex Acrylic Paint, but equally effective when mixed with any Acrylic Colour, Liquitex Professional Pouring Medium has been designed to prevent crazing in poured applications.

Blog Post: How To Use Pouring Medium When Painting With Acrylics
What is a Medium?
Any liquid which changes the consistency of the paint it is mixed with may be classed as a medium. Liquitex mediums are designed specifically for use with acrylic paints, and produce effects ranging from thin glaze to thick impasto, with a variety of choices in between.
Why use a Medium?
By changing the properties of paint, a medium extends the possibilities of how an artist works with the colour, and affords a plethora of exciting techniques and effects.
Acrylic Mediums: Exploring The Possibilities gives further information on the Liquitex range of acrylic mediums, and how they can be used.
Why choose Liquitex Pouring Medium?
Developed to reduce crazing, cracking and bubbles forming in drying Acrylic Colour, Liquitex Pouring Medium creates even, flowing pools of colour in poured applications, without adding transparency. Fully intermixable, all Liquitex Mediums are water resistant and ph neutral when dry, non-yellowing and permanent.
How do I use Liquitex Pouring Medium?
Drying to a smooth, high gloss finish, Liquitex Pouring Medium can be mixed with Liquitex Soft Body acrylic colour to form a vibrant, coloured, flexible film.
The following videos offer some ideas on how to use Liquitex Pouring Medium:
Acrylic Pouring, Collage & Texture
Can you explain some of the terms used when painting with Acrylic Mediums?
Click here for a glossary of Acrylic painting terms, including the different types of medium. 
Who are Liquitex?
Founded in 1933 by Henry Levison, Permanent Pigments, an oil colour producing company from Cincinnati, Ohio developed the first water-based artist acrylic paints. Their new formulation was launched in 1955, under the new company name Liquitex, an abbreviation of "Liquid texture", which Levison believed better captured the product's essence.
Today, Liquitex offers a vast array of intermixable vibrant acrylic paints and mediums, enabling artists to continually explore new and innovative ways of working with Acrylic Colour.
Anonymous A.
30/03/2021

5
/5
I'm using it for my decoupage project at the moment, but will be experimenting with my acrylics.
Anonymous A.
21/01/2020

5
/5
Excellent for priming & glueing collages
Anonymous A.
26/08/2018

5
/5
good
Anonymous A.
11/05/2018

5
/5
Good
Anonymous A.
11/02/2018

5
/5
Produces a lovely glossy coat giving works Contemporary look
Anonymous A.
08/02/2018

5
/5
Exactly what I needed
Anonymous A.
22/12/2017

5
/5
very good