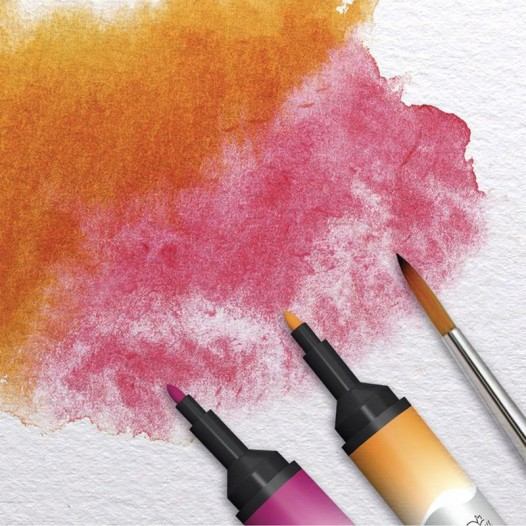 Pick Colours
36 colours
Twin-tip - Flexible brush & fine nibs
Offers versatility and fine detailing
Water-based inks
Easily blended with water
Video: Meet The ProMarker Family
Offering innovative versatility to the artist and illustrator, the Winsor & Newton ProMarker Watercolour pen has been expertly crafted with dual nibs, enabling unrivalled definition and control. The twin-tip combination of a fine nib and flexible brush tip allows for a variety of stunning, sweeping line thicknesses and superior detailing.
Containing highly pigmented, water-based ink, they feature a flexible brush tip at one end and a fine tip at the other. Available in 36 colours, the pen delivers superb colour performance with added precision. Colours are easily blended with water to create soft and vibrant watercolour washes. ProMarker Watercolour pens are compatible with the original ProMarker and ProMarker Brush ranges.
View the ProMarker Watercolour colour chart
Who are Winsor & Newton?
In 1832, William Winsor and Henry Newton introduced the first moist water colours to the world. Today, Winsor and Newton remain the premier choice for artists, offering a wide variety of fine art supplies including: oil, water colour, acrylic and alkyd paints, pastels, artists' brushes, canvases, papers and portfolios.
Anonymous A.
04/04/2022

4
/5
A bit disappointed especially with the Prussian Blue as it doesn't blend It behaves more like an ink. The other colours are okay. I thought these would have been a good alternative to water colour pans but they're not. Still I've enjoyed using them for limited applications
Anonymous A.
05/02/2022

5
/5
Great colours
Anonymous A.
04/04/2019

5
/5
Great pens.
Anonymous A.
08/03/2019

4
/5
Not used properly yet but think they will be a helpful addition to watercolour supplies.
Anonymous A.
26/01/2018

5
/5
Best thing since sliced bread Love using these watercolour pens
Anonymous A.
23/11/2017

4
/5
Good quality